As we know, a tidy home is usually recognized through a tidy bathroom space. The importance of storage and bathroom vanity is a major part of a bathroom design. At times, it is not only about choosing the best style, but it is also necessary to consider the number of people using the bathroom, their daily needs, and their routine. In today's world, endless and seamless options are available for bathroom vanity and cabinet basin. It is up to you to invest in an inexpensive cabinet basin or reach the highest prices of up to $5000 for the best quality cabinet vanity styled according to your need.
This article discusses the best-reviewed bathroom cabinet basin to help you make your bathroom a stylish piece of art. But before choosing any of these options, you must consider your needs.
Considering Your Needs
Before buying any cabinet basin for your bathroom, you must consider your and your family's requirements. Here is a list of basic needs that suit a general household, including you and your family.
Maximum Storage
If a large family uses your bathroom or if your family is gradually growing, you must look for better storage bathroom vanity.
Keeping Everything Clean and Tidy
You must look for the best cabinet basin with more storage options to keep your bathroom uncluttered and tidy. Some pieces have concealed storage options under the basin that might help you adapt to your storage requirements.
The Best Reviewed Cabinet Basins
In today's world, it is not a hard task to look for anything to buy online, yet the times have reached when you can shop without doubting the quality of online products. For your ease, we have compiled a set of best-reviewed cabinet basins by KingKonree. You can get bathroom vanity at reasonable pricing and in the best possible quality. Read along for the best-reviewed cabinet basins by the best online retailer KingKonree.
1. Artificial Stone Wash Basin
This top-mount cabinet basin is made up of a solid surface and is eligible to last longer. The products are made with reliable materials of the best quality and have tough wear and tear. The round bathroom basin offers an ergonomic design for the user's ease and keeps the bathroom style, while the large and top mount basin is new in bathroom design trends. The best thing about these artificial stone wash basins is that they are made with aluminum powder, color paste, and resin. These wash basins are highly bright, stain resistant, and have a lot of styles and colors.
Advantages: These basins are not easy to break, not easy to be polluted, and can match various bathroom styles. These basins come in two kinds of finishes, and you can choose matt or glossy depending upon their features.
• Matt Finish – Features: The matt finish cabinet basin has a low reflection rate, a super fine matt finish, and renewable and reparable material quality.
• Glossy Finish – Features: the basins' glossy finish has a high light reflection rate. They are also easy to clean, with quality stain resistance and anti-fungal.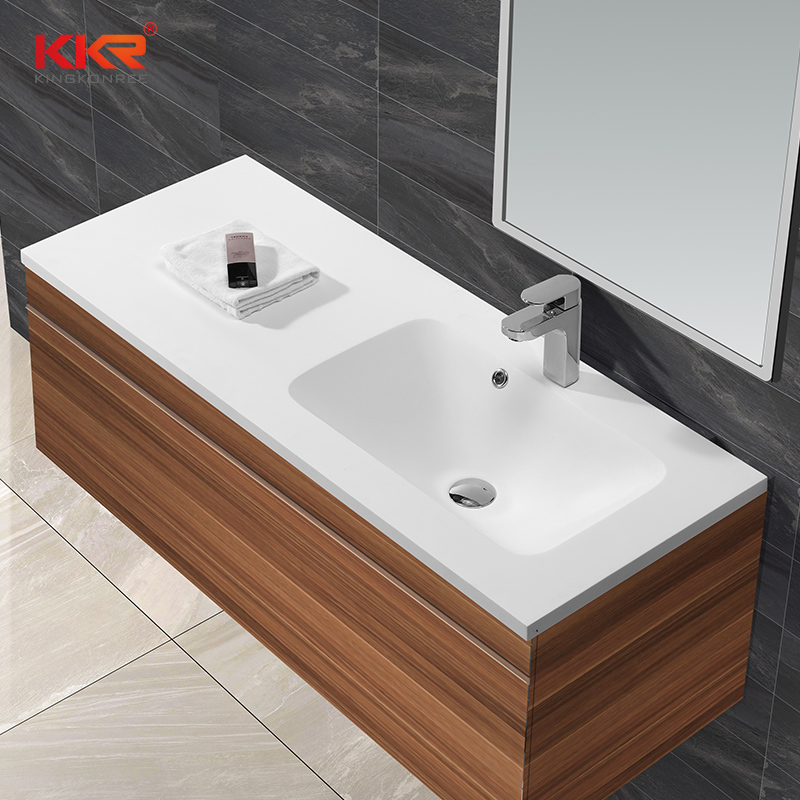 2. Wall Mount Basin
The time is when you need to ditch your ordinary-looking bathroom cabinet basin and switch to a KingKonree stone-looking cabinet basin specifically designed as a wall mount that helps save your bathroom space, laundry room, or even commercial spaces. It is very easy to maintain yet looks super stylish, and the basin has a non-porous surface and a plate for drainage. These are easy to be installed and are famous in the international market due to their long-lasting quality. They are made up of special surface materials that are easy to clean.
Advantages: The best thing about these basins is their invisible drainages system with the same color, making it look even more elegant. These solid surface material basins are sustainable and antibacterial. They can survive the impact of dirt caused due to daily usage.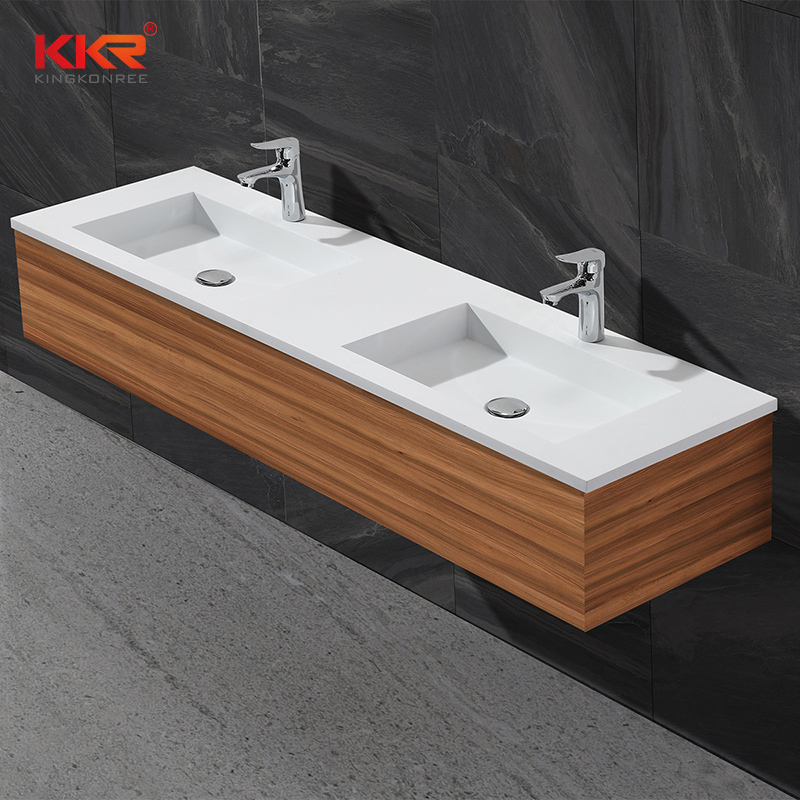 3. Handmade Countertop Cabinet Basin
This design comes with the perfect combination of space, versatility, and comfort. With the KRR version, the washbasin and sanitary ware lines set in harmony add dimension to its look. These washbasins come in matt as well as glossy finish. They are made with high-quality raw materials that last long and are also popular in the international market due to their durability.
Advantages: This product by KingKonree is highly durable and easy to clean due to its high-quality matte and gloss finish. These basins are built in, so installing and maintaining them is very easy.
• Glossy Finish – Features: The glossy finish basins are clear and bright, reflecting a higher rate of light.
• Matte Finish – Features: It has a blurry effect and a low perception rate which is not very dazzling. You can also see the KingKonree surface bathtub for a complete look at your modern-looking bathroom.
Conclusion
Are you considering renovating your bathroom but trying to figure out where to look for the best bathroom vanity products? KingKonree is an all-rounder best international seller that provides the best quality countertops, cabinet basins, bathroom items like storage, etc. In today's world, people are mostly focused on quality and trendy styles; KingKonree is your spot to buy your needed bathroom stuff that perfectly suits your family and bathroom space needs.
You can read and find the best-selling and best-reviewed products we have enlisted above in this article. Also, consider the things you should consider before choosing the cabinet basin. This will help you choose the best suited for your family size and needs.