As the world and its industries evolve, matte surfaces become increasingly popular in homes. Many people are switching to the solid surface basin because they are super smooth and silky in look. But if you are looking for the best surface type and basins for your home, this article is for you. In this article, we will talk about what exactly solid surfaces are. How can they be beneficial to use? How would you clean them? And which are the best solid surface basin, or where to get them from?
What is a Solid Surface?
A solid surface is formed by mixing alumina trihydrate (ATH) compound with polyester resin or epoxy. This mixture creates a strong finish and gives a stone look and feel. Solid surface products are available in many different colors, though usually, they are in matte white. Sometimes the solid surface is referred to as stone resin, cast stone, composite stone, engineered stone, or mineral stone.
The Pros of Solid Surface Basin
A solid surface is not brittle or fragile, making it highly durable, as it does not break easily. This makes the product a very long-lasting alternative to real stone. Solid surface basins are available in various sizes and shapes; they can retain heat levels better than any other materials, like cast iron or acrylic. One of the greatest pros of using a solid surface basin is that they can be easily sanded to clear out any marks or scratches; they can also be polished to buff out everything. Using sandpaper a year can keep your solid surface basin looking brand new. For regular cleaning, a cleaning cream like Jif could be used with a special sponge; this helps in keeping your basin shiny and clean.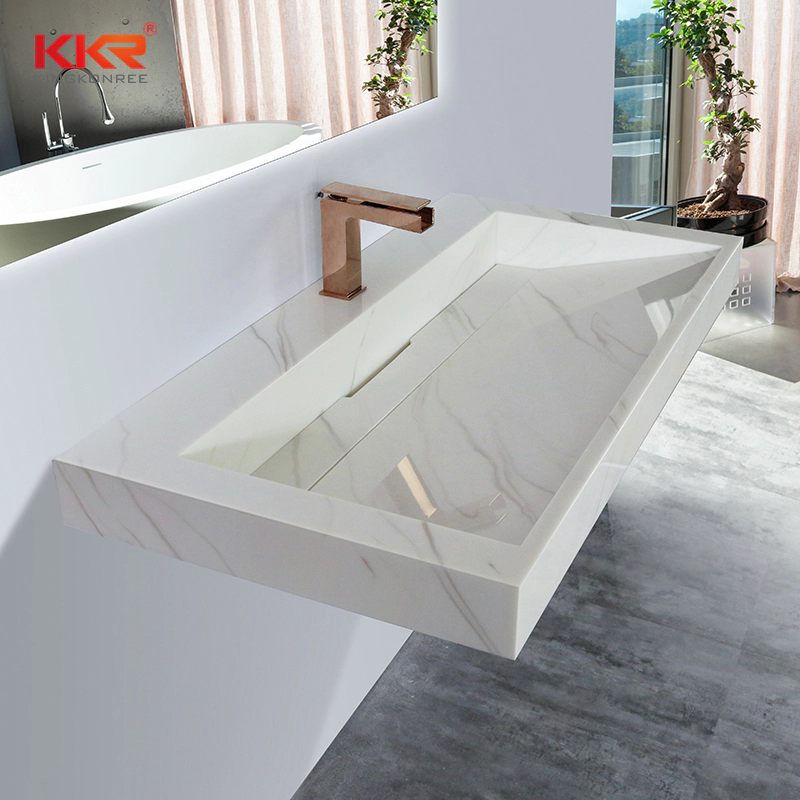 Is It Worth Using a Solid Surface Basin?
Solid surfaces can be your go-to for basins; if you can afford good-quality ones, you should use them for every need. Their matte white finish and amazing new trendy styles make this solid surface basin very durable and the best. But are you considering how we should research and look for the best and most reputable branded solid surface basin? Well, you do not need to worry about that because we have done the research for you to buy the best quality solid surface basin for your home. A mid to good high-end quality solid surface basin would maintain its material and color over time.
The Best Quality Solid Surface Basin
Looking for the best solid surface basin online might get tough at times, as the online market is not all good a hundred percent of the time. But being one of the best solid surface product brands and manufacturers in China, KingKonree has various styles according to trendy and modern designs.
As they produce their products according to the CUPC standard and have passed the SGS and CE certification, their solid surface basin proves superior quality with ten years of warranty. They have more than 200 types of basins suiting your style and needs. The products they manufacture can be seen in many public places, like gyms, beauty salons, hotels, etc. Here is a list of some of their best-selling products of solid surface basins.
Sloping Sink Solid Surface Basin
This wall-mounted basin style is practical and stylish and can be used in any household. This special design gives your bathroom an elite and stylish look. This design saves space as you do not need to use your bathroom's existing basin or sink. Due to its wall mount design, the basin has the flexibility to fit in any style of décor. This way, the pipes also keep hidden.


Bathroom Sink Bowl Top Mount Stone Vessel Round Basin Sink
This top mount basin is made of solid surface material, ensuring a good quality that would last longer, and the design remains durable. It is made of highly durable materials that can remain strong even during the harsh usage of the basins. This counter basin is elegant in style, and its round shape basin gives an ergonomic design to your entire bathroom. It is highly practical and is currently trending around the world.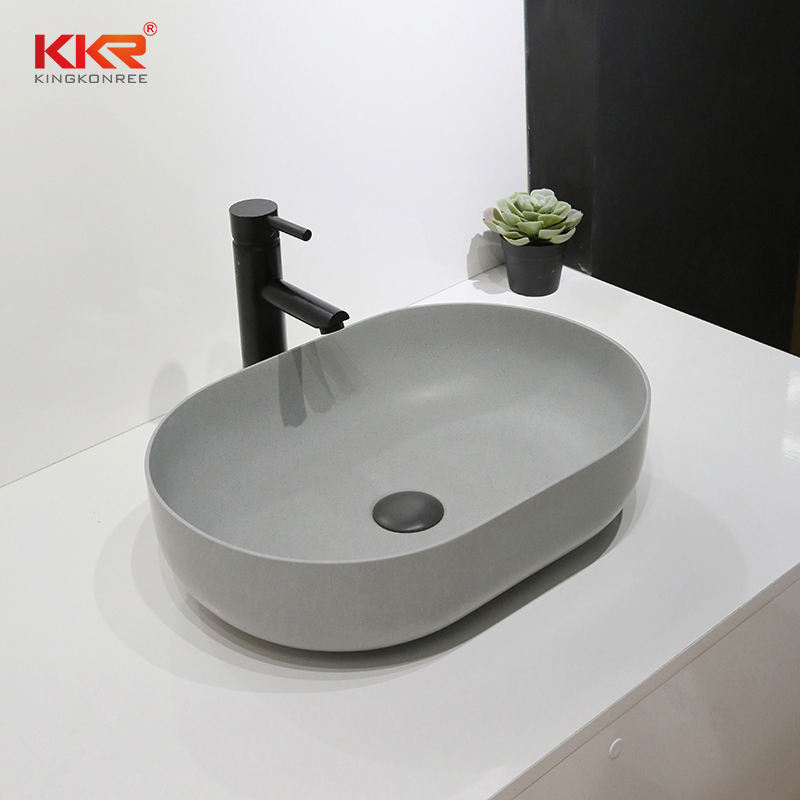 Conclusion
As the matter surface has become a style and trend of the era, why not look for the best solid surface material basins? Before doing that, we should know the pros and cons of the solid surface. Above in the article, we have discussed everything you might want to know about the solid surface basin, its durability, maintenance, and how you can pick the best quality of these wash basins from the top-rated store. We have also mentioned the most trending styles for the month, along with their style and specifications. We hope this will help you in choosing the best for yourself.