Experience the epitome of excellence in the realm of sanitary ware manufacturing with KingKonree KKR®. With more than 20 years of expertise we have revolutionized bathroom and interior design by offering a collection of high quality products that perfectly blend functionality and aesthetics. As you embark on your journey to elevate your living spaces immerse yourself in a world of cutting edge technology creative design and unparalleled quality.
About KingKonree KKR®
KingKonree KKR® has built a legacy over the course of 20+ years, now is the leading professional sanitary ware manufacturer. Our unwavering dedication to innovation and craftsmanship has positioned us as a player in the market for sanitary ware. Our extensive product range includes surface bathtubs, wash basins and acrylic solid surface sheets transforming bathrooms and interior spaces into works of art.
✔

Unmatched Product Variety
Discover a selection of sanitary ware products that cater to every design aspiration. Our comprehensive range offers hundreds of colors and diverse types ensuring that every vision is met with precision. Whether your style leans towards minimalism or timeless elegance our products are meticulously designed to harmonize with your unique aesthetic preferences.
✔

Craftsmanship That Sets Us Apart
At KingKonree KKR®, we believe that our craftsmanship reflects our commitment, to achieving perfection. We take pride in our factory, which covers an area of 20,000+ square meters. It is within these walls that the true magic happens, as our skilled artisans dedicate themselves to crafting each and every piece with utmost precision.
✔

Unparalleled Quality and Uncompromising Standards
Our brand's foundation lies in our pursuit of quality. To ensure that you receive nothing but excellence we spare no effort in sourcing the materials and utilizing top notch manufacturing processes. Our Bathroom series boasts a resin percentage that surpasses China's average by well over 30% underscoring our unwavering dedication to quality. Only the highest grade materials such as Chinalco aluminum powder and LR color paste are handpicked for production guaranteeing the stability and durability of every piece.
✔

Redefined Reliability
At KingKonree KKR® we understand the significance of reliability. That's why we extend a 10-year warranty on all our products. Through testing procedures including CE, SGS, CUPC, CSA and PROP65 certifications we ensure that each item meets or exceeds the industry standards. Our goal is to eliminate any concerns or worries you may have while providing you with peace of mind and a product that surpasses your expectations.
✔

Innovation Shaping the Future
At our company we don't just offer products; we provide solutions that push the boundaries of design. With a collection of, over 1000+ molds for surface products we give you endless design options to keep you ahead of the game. Your ideas are transformed into reality swiftly allowing you to lead the market and leave competitors behind.

Elevate your bathroom with a touch of elegance and sophistication by choosing from our range of surface bathroom countertops. Meticulously crafted and designed to blend aesthetics with functionality these countertops redefine bathroom design. Experience the allure of a surface that not only looks visually stunning but is also durable, hygienic and easy to maintain. Unleash your imagination with our surfaces that go beyond conventional design limits. These surfaces offer a balance between versatility and durability making them suitable for both commercial applications. Immerse yourself in a world of colors captivating patterns and enticing textures that allow you to create visual effects while enjoying the benefits of stain resistant and long lasting surfaces.
Redefine luxury in your bathing experience with our collection of surface tubs. Indulge, in relaxation while adding a touch of style to your space like never before. Our tubs are meticulously crafted with attention to detail offering a haven of comfort, elegance and contemporary design. Indulge yourself in a bathing experience that goes beyond the ordinary as you unwind in a tub that combines opulence with durability and easy maintenance.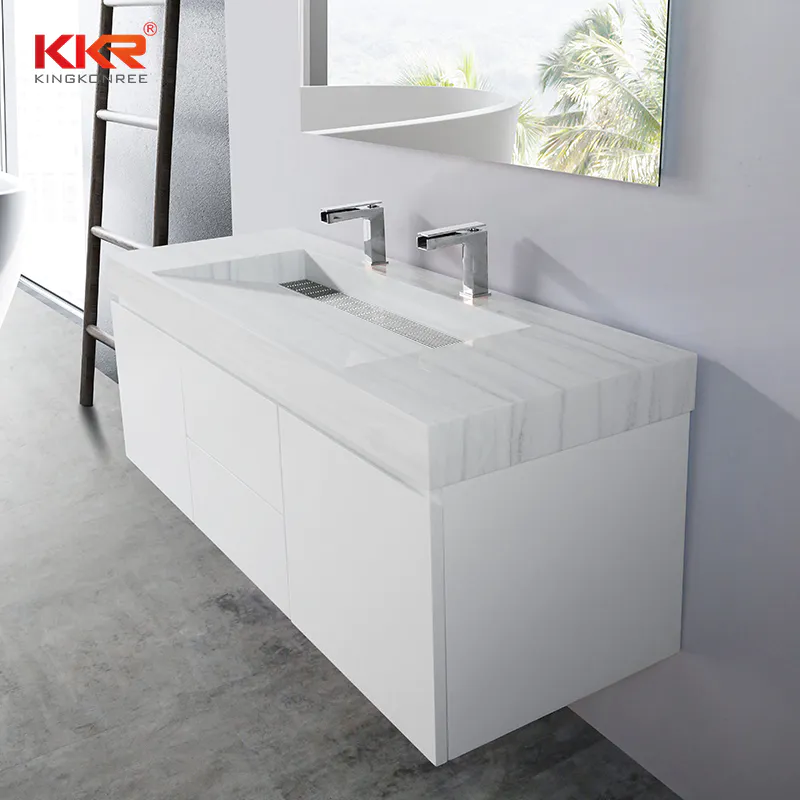 ✔ Solid Surface Worktops; The Perfect Blend of Functionality and Elegance
Discover the fusion of practicality and elegance through our surface worktops. Whether you're designing a kitchen, bathroom or commercial space these worktops provide a solution that can withstand use while adding a touch of sophistication. With customization options available, for color, size and design your worktop becomes a canvas for your vision. At KingKonree KKR® we encourage you to explore each section to find the solution that aligns with your design aspirations. Our unparalleled commitment to quality, innovation and excellence ensures that each product in our range reflects our dedication to redefining the world of ware.
✔ Sustainability and Responsibility
We place importance on sustainability and preservation. Our dedication, to manufacturing is clearly demonstrated through our 5 star ECO production line certified by the government. This guarantees that as we continue to innovate in our industry we also prioritize protecting the environment and maintaining production practices.
✔ A Legacy of Excellence
For, over a decade our products have been proudly featured in establishments like Marriott and the Mandarin Oriental Hotel Group. With than 800 completed projects and over 2000 satisfied customers we have renowned ourselves as a trusted partner for quality long lasting and cost effective sanitary ware solutions.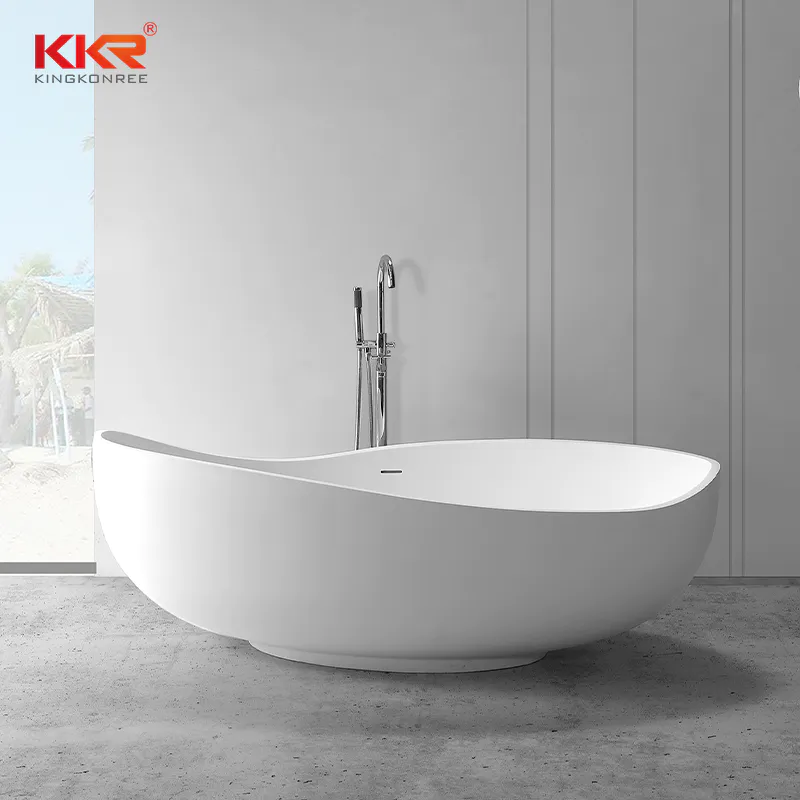 Join the KingKonree KKR® Experience
When you choose KingKonree KKR® you're not just choosing products; you're choosing innovation, craftsmanship and a commitment to excellence.
Bring Your Spaces to Life with KingKonree KKR®; Where Design Dreams Come True
Frequently Asked Questions (FAQs)
1. What is solid surface sanitary ware?
Solid surface sanitary ware is a material that seamlessly combines aesthetics and functionality in bathroom and interior design. It is a man made material created by blending fillers, binders, pigments and particulates together to produce products that're hygienic, visually appealing and incredibly durable.
2. How can solid surface sanitary ware enhance my space?
Solid surface sanitary ware offers advantages such as aesthetics, customization options tailored to your preferences, durability, for long lasting use and hygienic properties that ensure cleanliness in your space. It's the versatility of surface material that allows for possibilities, in shaping and designing adding a touch of artistic elegance to your living spaces.
3. Why should you choose KingKonree KKR® for your solid surface ware needs?
With than 23 years of industry expertise a focus on delivering superior quality and an extensive range of products KingKonree KKR® stands out as the preferred choice. We are committed to innovation offering an array of colors and comprehensive product options to meet all your ware requirements.
4. Can I personalize the colors and sizes of surface products?
Absolutely! At KingKonree KKR® customization is at the core of our offerings. We can accurately match product colors based on customer samples ensuring that we bring your design vision to life. Moreover we can tailor the size of surface sheets according to your needs with quantities available up to 50 pieces.
5. What makes KingKonree KKR® exceptional when it comes to quality?
At KingKonree KKR® quality is our priority. To ensure purity and outstanding performance we use premium 1000grit aluminum powder sourced from manufacturers like Chinacol®. Our partnerships with world renowned suppliers such, as Chalco® and LR® further demonstrate our dedication to delivering top notch quality.
6. How do KingKonree KKR® ensure the integrity of their products during shipping?
We take precautions to safeguard your products throughout the shipping process. Our packaging includes reinforced cartons, custom honeycomb slots and fully wrapped non woven bags—all specifically designed to maintain the quality and integrity of your cargo. At KingKonree KKR® we prioritize both the safety of your goods and our environmental responsibilities.
7. Can KingKonree KKR® provide assistance, with design projects?
Certainly! With our research and development base and a proven track record of completing intricate designs, including those previously attempted by other companies KingKonree KKR® is well equipped to handle complex design projects. Our team of professionals is committed to transforming your ideas into reality.
8. How can I become a partner with KingKonree KKR®?
Becoming a partner with KingKonree KKR® is a process. Simply reach out to us through our designated contact channels and our dedicated team will guide you through the steps. We eagerly anticipate collaborating with you in order to bring ware solutions to life.
9. Are KingKonree KKR® products, for both commercial spaces?
Absolutely! Our extensive range of solid surface ware products is specifically designed to cater to an array of spaces—including both residential and commercial environments. If you're interested, in improving your home or adding value to a business KingKonree KKR® is the choice.
10. How can I find out more about KingKonree KKR® and what they offer?
To gather information about KingKonree KKR®, our range of products and our dedication to delivering top notch quality please feel free to browse through our website or get in touch with our customer service team. We're committed, to providing you with all the details so that you can make better decisions regarding your design projects.