A counter top wash basin is essential and a staple in the bathroom. These are the latest style of wash basins that look extremely elegant and lift the design of your bathroom. They make your bathroom more modern and provide a perfect space to keep your toiletries and other important stuff. There are many different kinds of styles and looks that you can find in the counter top wash basin. They come in almost every kind of shape, color, and texture. In this article, we will learn everything about the counter top wash basin and how you can choose the perfect counter top basin for your bathroom. So, let's jump into the article.
How to Choose the Right Counter top Wash Basin for your Bathroom?
Following are some different types of wash basins that will help you get a clear vision of the counter top wash basin you'll need for your bathroom.
·

Undermount Sink:
The first type of wash basin is found in many homes underneath the sink. As the name suggests, this sink sits underneath the counter top. The rim of the wash basin is fixed under the countertop, and it does not sit on top of the counter top like the other sinks. The main benefit of this wash basin is that it gives a clean and seamless look. If you don't like placing many things on top of the counter, then opting for this counter top wash basin is the best option. This wash basin also limits water spills; any water spill will be directly wiped in the sink without any obstruction. Thus, the maintenance and cleaning of this counter top are very easy. This wash basin is perfect for families with many family members and children.
·

Oval Sink:
If you are looking for something contemporary yet luxurious, then the oval-shaped counter top wash basins are a perfect option. This wash basin shape gives your bathroom a clean look but adds a subtle style. These are powerful statement pieces that are in fashion nowadays. These sinks give your bathroom a spa-like feel and make your bathroom more aesthetically pleasing. These wash basins can be a bit high maintenance, and you must ensure that you create a minimal style with these counter top wash basins.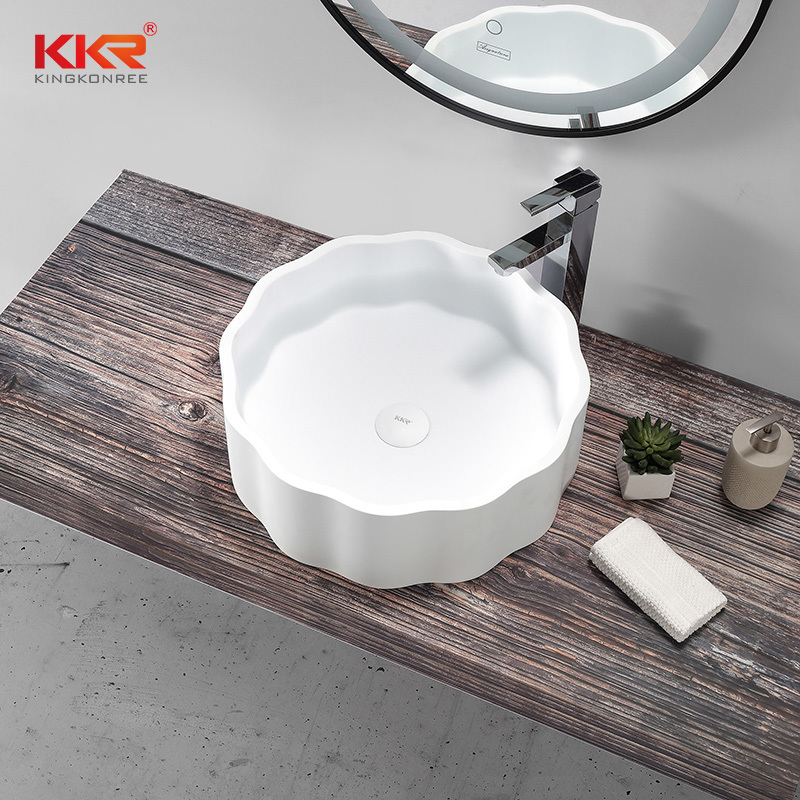 ·

Semirecessed Counter Top Wash Basins:
If you don't have a large bathroom and want cabinets for storage, opting for the semi-recessed wash basins is the best option. The semi-recessed counter top wash basin sits in the front of the counter top. This means you'll have space t make your cabinets. Your cabinets can be as shallow as 12 inches depending on the type of sink you are using. These sinks also give you a lot of counter space so you can keep things on it. The semi-recessed sinks are suitable for children and people with mobility issues, as reaching the faucet in these sinks is pretty easy.
·

Washplane Counter top Wash Basin:
If you want something modern, innovative, and sleek, go for the washplane counter top sinks. These sinks are usually used in restaurants and hotel bathrooms; however, you can also install them in your home. These sinks look stylish and sleek and take up minimal space. The washplane sinks are perfect for people with small bathrooms, such as powder bathrooms. You can install this kind of sink on different counter tops such as granite, marble and even engineered stone.
·

Rectangular Counter top Wash Basin:
Rectangular sinks are staple sinks that have been in fashion for many years. These are effortlessly stylish and not as expensive as the sinks now available in the market. You can find various colors, sizes, and even designs in these rectangular sinks. Small rectangular wash basins are perfect for small bathrooms, and larger ones are good for larger bathrooms. These sinks are also deep enough to prevent any spilling of water. Lastly, the cleaning and maintenance of these wash basins are also effortless; therefore, these are one of the safest options for counter top wash basins.
·

Solid Surface Counter top Wash Basins:
A new trend for wash basins is using the solid surface wash basin in your bathroom. The solid surface wash basins are unique and totally out of the norm. They will instantly catch a person's eyes and amp your bathroom space elegantly. These solid surface sinks are available in different styles. There are also many different colors available in the solid surface sinks. These basins are made with thick and durable material; therefore, you don't have to worry about them breaking easily. They can also be used in any size of the washroom.
·

Colored Counter top Wash Basins:
A fun way to add a pop of color to your bathroom is by adding a colored counter top wash basin. There are a lot of different colors that are available in your favorite shape of the sink. Install them and enjoy a colorful and stylish bathroom.

Kingkonree- The Perfect Place to Find Wash Basins:
If you are on the hunt for a company that sells solid surface and stone resins bathrooms and kitchens, then Kingkonree is the perfect place. This is one of the biggest and leading companies in China, with a massive variety of materials you'll need to make your dream bathroom and kitchen. Kingkonree ensures that the quality of the products is not compromised. The material from this company feels and looks smooth and elegant; they are dirt resistant, radiation-free, and have many other qualities. When you visit their website, you will find things like counter top wash basins, bathtubs, vanity tops, bath stools, and many other things. They also provide their customers with complete instructions to easily install their things.
Conclusion:
Finding a suitable counter top wash basin is a challenging task. The process of finding the perfect wash basin can be tiring and overwhelming. Therefore, we hope this article helped you understand the different kinds of counter top wash basins and which can be perfect for your bathroom.