Choosing a sink for your bathroom can be a tough task as there are many factors you need to consider before going on with your purchase, like the size, cost, and aesthetics. Even though there are many different types of sinks that you can go for, most people go with vanity sinks. If you are also looking to purchase a sink for your bathroom that looks aesthetically pleasing and serves many purposes, then vanity sinks are your best bet. If you want to know more about vanity sinks, read this article till the end as we explain all you need to know about them.
What Is a Vanity Sink?
Unlike other sinks that are meant to blend in with the surroundings, vanity sinks are made to stand out in the bathroom as a crowned jewel and are often found in contrasting colors to the rest of the bathroom. This is why they are made with high-quality materials and prominent colors. Most sinks in the market are designed to take up less space or just come as a simple sink, but vanity sinks are quite different as they come with a whole cabinet attached to them. These vanity sinks are a complete package as they also come with built-in cabinets, which can be used to store your everyday usage items and essentials or your bathroom cleaning supplies.
Benefits Of Using Vanity Sinks
Now that you have a brief idea of what vanity sinks are, you should also know about their benefits. Read ahead as we discuss each benefit in detail.
• Variety
When going out in the market to purchase a sink, people want to get the perfect fit for their home, and due to the wide variety and different designs, vanity sinks automatically become a great choice. You can get vanity sinks in different sizes and shapes as they comprise different parts that can be changed.
• Extra Storage
Another reason vanity sinks are a great choice is that they come with extra storage space in the form of compartments, which are dearly needed in bathrooms to store supplies and daily usage items. You can set the extra storage accordingly by customizing the type of arrangement. You can either have two big cabinets on each side, go for multiple cabinets, or even have some drawers on the top to store your essentials.
• Customizable
Since they have a wide variety of functions and parts, they are very customizable and can be fitted according to your needs. If you feel like your cabinets should be made out of oak for better reliability, then go for it but keep in mind that vanity sinks can vary greatly in price, and the cost can add up quite quickly if you choose to go with premium material.
• Hides Plumbing
Another perk of using a vanity sink is that it can hide plumbing and other water pipes that usually stick out from behind the sink. These pipes can have a major hit on the overall cleanliness and aesthetics of the bathroom, which is why people opt for vanity sinks.
Types Of Vanity Sinks
There are many types of vanity sinks, each of which caters to a different audience. While some are compact and space-saving, others tend to be more lavish and make a statement by being in the bathroom's center. Read ahead as we have discussed the different types of vanity sinks below.
Wall-Hung
As the name suggests, these countertops or cabinets are hung on the wall and have legroom below that helps wheelchair users.
Corner-Mount
A corner mount has a small triangular vanity top which takes up less space than its bigger and bulkier counterparts.
Console
Like an old dressing table, console vanity sinks stand up on their feet with a little space underneath to work with plumbing and pipes. They are also quite easy to move around.
Where To Buy Vanity Sink From?
If you want Vanity sinks for your bathroom, head over to KingKonree and choose the type of vanity sink you want from their wide variety of products. All of their products are made using high-quality materials to ensure longevity. The products at KingKonree also go through rigorous testing and quality control checks to ensure that the customers receive the best quality. If you are having trouble deciding what to buy for your bathroom, we have made this list of the best vanity sinks KingKonree offers.
This Compact Bathroom Vanity Cabinet is the perfect choice if you want to make the most out of a little space. It has a set of drawers underneath it that can be used for storage. You can have this cabinet in either matt or glossy finish and further customize its color in accordance with the rest of your theme and aesthetics.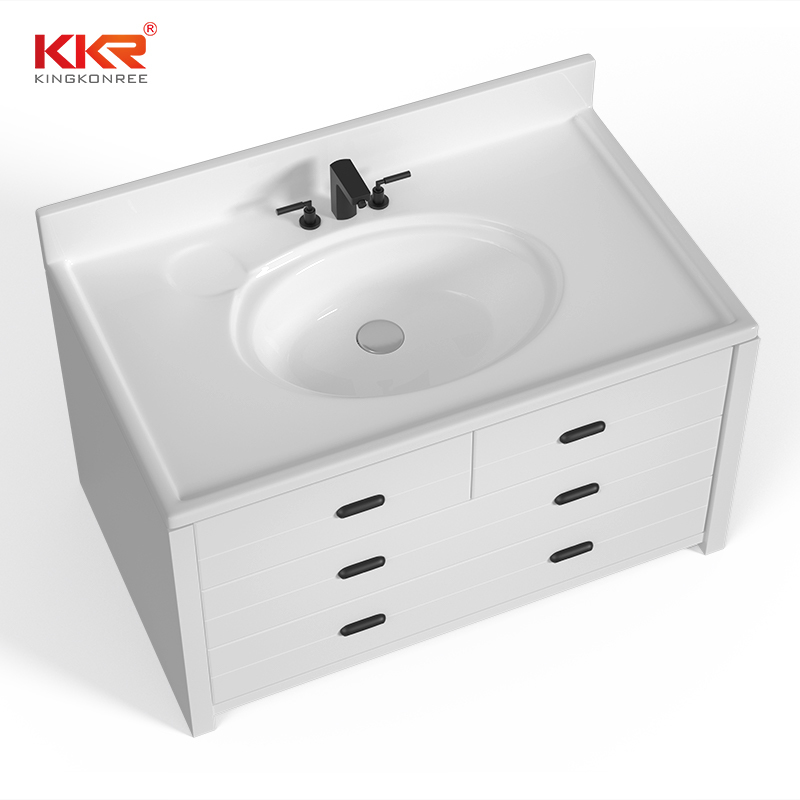 Marble Wall Hung Vanity Sink
The Marble wall-hung vanity sink is a minimalist-looking sink with a sleek countertop and matching storage compartments to go with the theme. The top is made out of marble, and the overall unit has a warranty of 10 years. You can also choose the color of this sink to match the rest of your bathroom.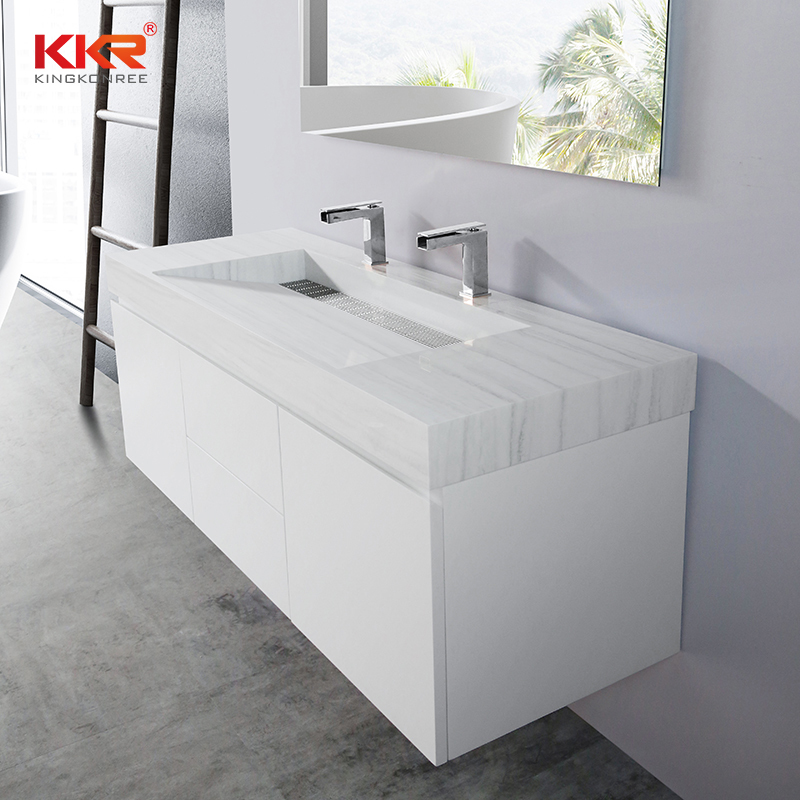 Black Marble Wooden Cabinet Vanity Sink
This Black marble wooden cabinet vanity sink has a contrasting design as it has a black top and wooden storage compartments. If you don't like this matching, you can always customize your order according to your needs and wants.
Conclusion
This was a brief yet conclusive article on all you need to know about Vanity sinks, in which we covered the benefits and types of vanity sinks if you are also interested in buying one, head over to KingKonree and check out their wide variety of high-quality products.