A top mount bathroom sink adds a factor of modernity to your bathroom space. A bathroom is where you clean yourself up and have leisure time. A beautifully decorated washroom with a classy bathroom sink, stylish shower, and stands create a charming aura. Among bathroom sinks, the top mount bathroom sink is in vogue. These sinks come in different shapes and styles to add oomph to your bathroom. However, choosing the right sink can be a tricky task. So, explore these best top-mount sinks to create a seamless bathroom space.
What is a Top Mount Bathroom Sink?
A top mount bathroom sink sits on the top of the counter. The top-mount bathroom sink is a blend of contemporary and traditional styles. It is budget-friendly and convenient to install. Therefore, they are known as drop-in sinks as you drop them from the above on the counter compared to the under-mount sinks.
8 Best Top Mount Bathroom Sink
The top mount bathroom sink makes your bathroom pop and enhances its beauty. Check out these 8 best top mount bathroom sinks by KingKonree to add flair to your bathroom space.
The European design above counter basin successfully adds a dash of modernity to your bathroom. It's minimalist and chic, making your bathroom retain its simplicity without overwhelming the overall feel of the space. The soft edges maintain the subtlety of your bathroom. It's available in various shapes with plenty of shelf space to place essentials like shower gel, cream, shaving kit, and more.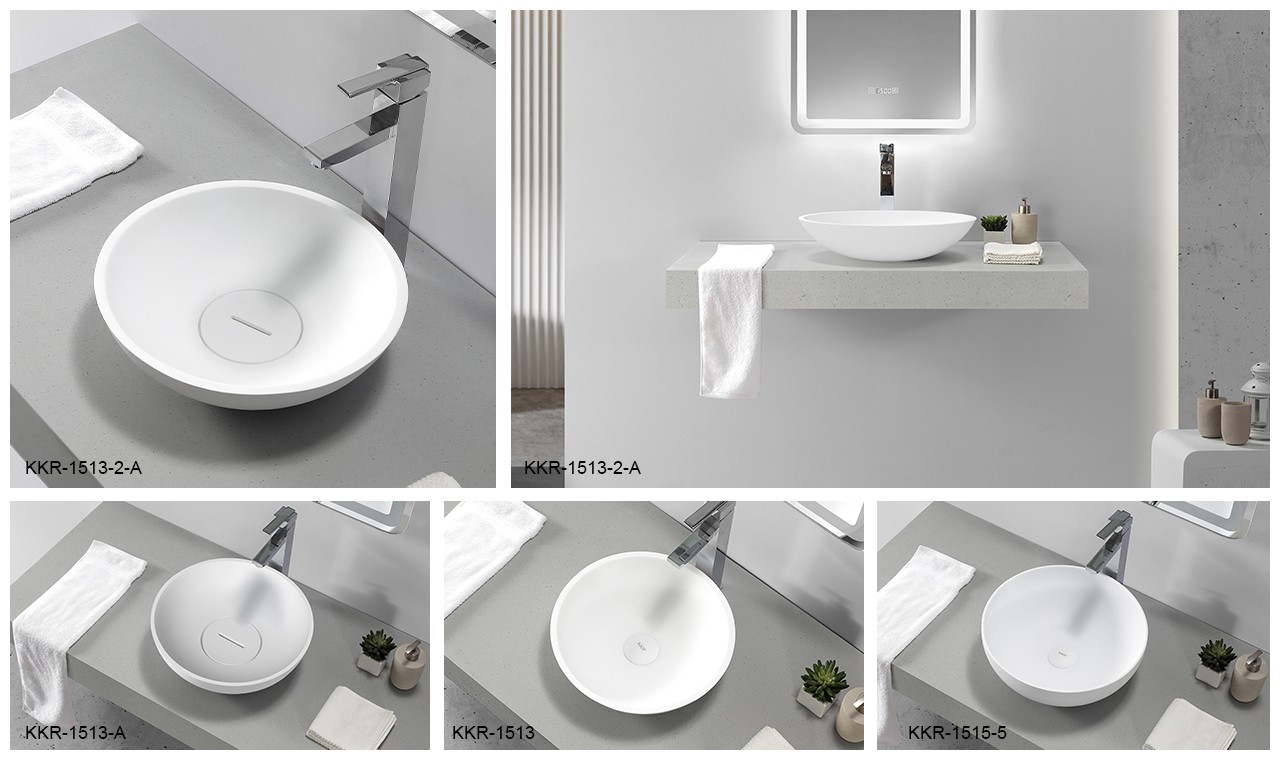 2.
White Artificial Marble Bathroom Sink
The white artificial marble bathroom sink adds an angle of poise to your bathroom. The remarkable wavy design attracts whoever lies their eyes on it. It's available in basic but attractive colours, including white, pure black, and wooden chips. Timeless and classy, this wash basin epitomizes comfort and versatility. This wash basin is compact and more refined when paired with an oval mirror.
3.
Bathroom Rectangular Counter Top Wash Basin
The bathroom rectangular counter top wash basin exudes elegance and adds a unique dimension to your bathroom. It can be customized in terms of colour, shape, and finish. It is made of gel-coat resin or acrylic solid surface. An LED mirror over this rectangular wash basin is a clever way to enhance its style.
4.
Black Solid Surface Above Counter Wash Basin
The black solid surface above counter wash basin displays boldness and grandeur simultaneously. Despite being small in size, it offers full functionality. Its sleek design is why you should install this wash basin in your bathroom. The enamel layer over the basin protects it from cracks over a long time. The solid core and the velvety matte finish give this basin strength and an attractive appearance. The vessel shape allows for quick drainage so the water won't collect as it does in flatter bottoms. Cleaning this top mount bathroom sink is also easier as there are no ridges, so dirt can't collect.
5.
Artificial Stone Polymer Resin Washbasin
The artificial stone polymer resin wash basin is the classic top mount wash basin. The wash basin has a matt or glossy finish to suit your needs. The matt finish looks blurry, while the glossy finish gives off a bright appearance. It's equipped with anti-yellowing technology that protects your basin against discolouration. The basin sits on the counter without a pedestal, giving it a sleek and classy appearance. The wash basin is suitable for gymnasiums, beauty salons, powder rooms, etc.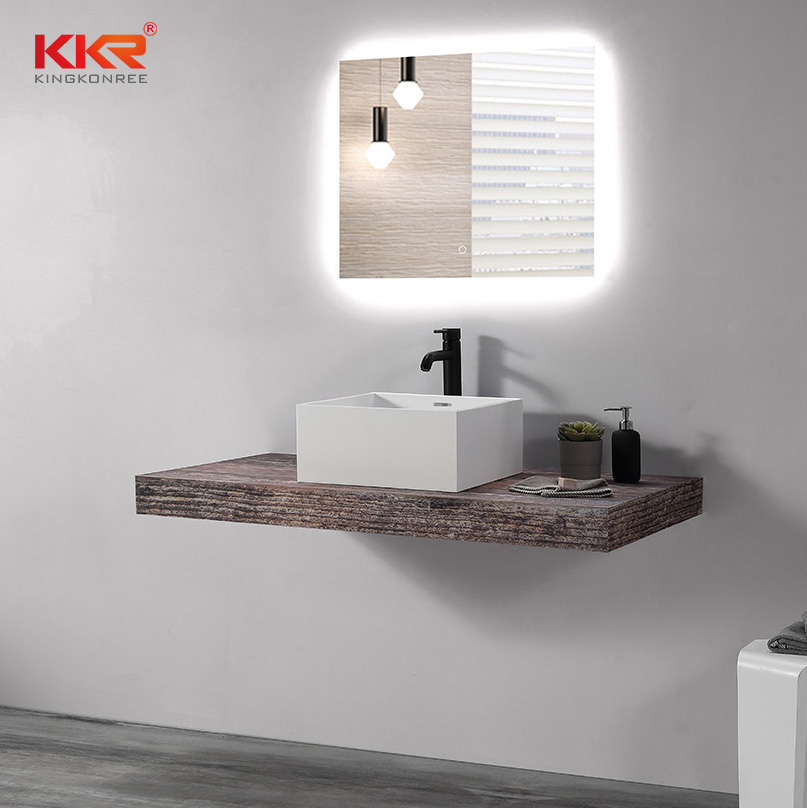 6.
Newly White Handmade Countertop Sinks
The newly white handmade countertop sinks have a non-porous finish, making them resistant to scratches. Its bulky look gives off vintage farmhouse vibes. The sink has larger than average specification, which makes it suitable for single-sink bathrooms. Its white finish looks stunning against a black background. It's available in multiple colours so that you can choose the one most compatible with your bathroom. Its soft edges and ceramic finish adds an extra dimension to your bathroom.
7.
Luxury Oval White Solid Surface Counter Top
The luxury oval white solid surface counter top features a visually attractive and glossy body that adds a remarkable touch to your bathroom. It has several finish options, such as matt, glossy, and grey. It's a stylistic piece to enhance the feel of your bathroom. You can install a black faucet to enhance its beauty.
8.
Concise Style Acrylic Solid Surface Wash Basin
The concise style acrylic solid surface stone wash basin boasts a subtle yet classic design that is visually appealing and offers great functionality. The installation of this basin is convenient and budget-friendly. The basin is available in a variety of colours to match the backdrop of your bathroom. This top-mount bathroom sink is durable and has no overflow hole, so drainage is as quick as possible. It's an ultimate dynamo that complements most bathroom decor. It's chip-proof as its surface is enamel treated which doesn't wear off easily.


Why Should You Get a Top Mount Bathroom Sink?
You should get a top mount wash basin for several reasons. First, it's budget-friendly as it costs much less to put on a counter than under-mount basins. Secondly, the installation is convenient, too, as you don't need to carve your counter to make space for the basin. Also, as it's above the counter, it is less likely to cause damage to the edges. Thirdly, these basins are also more noticeable than undermount sinks making them more visually pleasing.
Factors to Consider Before Choosing the Bathroom Sink
· The wash basin size should be in harmony with the rest of the bathroom. It shouldn't overwhelm the space.
· The faucet should be at a height that is accessible and easy to clean.
· The material of the sink also matters. Most people prefer ceramic as it is easier to clean and high in strength.
Conclusion
The top-mount bathroom sink is a wise investment for your bathroom space. It's stylish, chic, and classy, with poise and elegance spread all over it. These basins look great in minimalist bathroom settings. The above counter basins by KingKonree add grace to your bathroom space with their modern design, exceptional quality, and appearance.