Are you looking for a modern and stylish way to bring your bathroom to life? Wall-hung solid surface basins are the perfect solution for adding practicality and aesthetic appeal. This article will cover everything you need to know about these versatile fixtures, from their installation requirements to the pros and cons of different materials. Read on to find out more.

Wall-hung solid surface basins are sinks mounted on the wall rather than placed on a countertop or vanity unit. They're usually made from materials like stone and glass and come in various shapes and sizes to suit different needs. Some common examples of wall-hung solid surface basins include:
• Pedestal Sinks: These are similar to traditional pedestal sinks but designed to be mounted on the wall instead of placed on the floor.
• Corner Sinks: As the name suggests, corner sinks fit neatly into the corner of a room, making them ideal for small spaces.
• Console Sinks: These sinks are supported by legs or consoles, which gives them a bit more of an old-fashioned feel. However, they still offer the same sleek look as wall-hung basin options.
Why Choose a Wall Hung Solid Surface Basin?
You might want to choose a wall-hung solid surface basin for many reasons. There are many different basin options when you want to renovate your bathroom. Wall-hung solid surface basins are a great option for those looking for a sleek and modern look. Here are some of the benefits of using wall-hung solid surface basins:
1. They create a sense of space: Wall-hung basins are suspended from the wall, which creates the illusion of more space in your bathroom. If you have a small bathroom, this can be a great way to make it appear larger.
2. They're easy to clean: Unlike other basins, wall-hung basins are easy to keep clean. The smooth surfaces make it simple to wipe down and free from dirt and grime build-up.
3. They're stylish: Wall-hung basins add a touch of sophistication and style to any bathroom. Their sleek lines and minimal design will give your bathroom an instant face-lift.
4. They're durable: Wall-hung basins are made from tough, durable materials that will stand the test of time. They will last for many years without showing signs of wear and tear with proper care.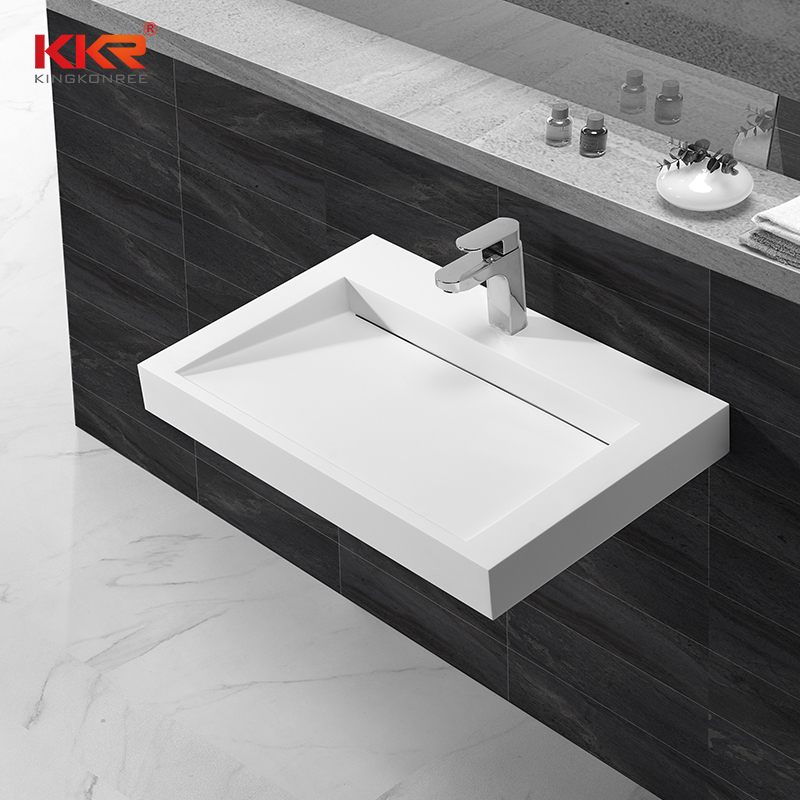 Installation Tips and Guidelines
When it comes to installing wall-hung solid surface basins, there are a few things you need to keep in mind.
First, make sure that the basin is properly sealed. This will prevent any water damage to the surrounding areas;
Second, use a silicone sealant around the basin's edges to create a watertight seal;
Third, ensure the basin is properly supported by brackets or other hardware;
Fourth, use a level when installing the basin to ensure it is correctly positioned;
Fifth, avoid over-tightening the screws or bolts when attaching the basin to the wall;
Sixth, caulk around the basin's edge after it has been installed to create a finished look. For more, you can visit KingKonree.
Our company is the leading manufacturer of wall-hung solid surface basins. We supply high-quality, wall-hung basins to businesses and homeowners worldwide. Our unique value proposition offers a wide range of beautiful and affordable products. Our mission is to provide our customers with stylish, high-quality basins that are easy to install and maintain. Our vision is to become the go-to source for bathroom fixtures worldwide.
Maintenance Tips and Suggestions
Proper maintenance keeps them looking new regarding wall-hung solid surface basins. Here are a few tips and suggestions:
- Wipe down the basin with a soft, damp cloth after each use.
- Avoid using harsh chemicals or abrasive cleaners on the basin as they can damage the surface.
- If the basin becomes stained, gently scrub it with a mild soap and water solution.
- To prevent staining, regularly apply a sealant to the basin according to the manufacturer's instructions.
Conclusion
Wall-hung solid surface basins are an excellent choice for bathrooms that need a more modern look. They provide both functionality and style while being easy to install and maintain. Their sleek design will surely be the focal point of any bathroom renovation project. We hope this article has provided you with all the information you need to decide whether wall-hung solid surface basins are the right option for your bathroom needs.