When choosing fixtures for your bathroom or kitchen it's crucial to consider both functionality and visual appeal. That's where Kingkonree, a resounding name in the world of sanitary ware stands out. With over 23 years of expertise in designing, developing and manufacturing surface bathtubs, wash basins and acrylic solid surface sheets Kingkonree has established itself as an industry leader. In this guide we will delve into the realm of solid surface basins shedding light on their unique features, benefits and why Kingkonree should be your top choice.
Now let's dive into what sets these solid surface materials apart – their composition.
▶ Defining Solid Surface Basins
Solid surface basins bring together innovation and elegance harmoniously. They are crafted by combining a mineral compound with acrylic, epoxy or polyester resins to create a product that's both durable and aesthetically pleasing. These basins offer a feel of natural stone while boasting a smooth matte finish. While matte white surfaces are the go-to choice, solid surface basins are available in an array of colors and finishes. They are also known as stone resin, composite stone, cast stone, mineral stone or engineered stone.
▶ Applications of Solid Surface Basins
Solid surface basins are used in both residential and commercial settings. They are a go-to choice, for bathrooms, kitchens, hotels, gyms, beauty salons and public toilets due to their durability and versatility.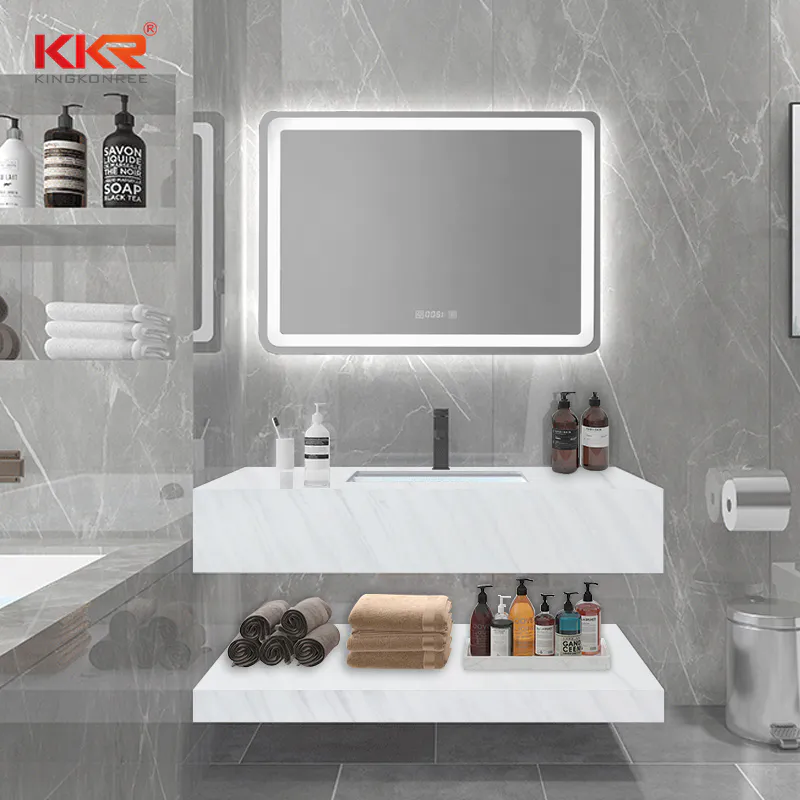 Advantages of Solid Surface Basins
Here are some of the many advantages these basins carry:
√

Durability and Longevity
The durability of solid surface basins is attributed to the high-quality acrylic resins used by Kingkonree. These basins are designed to withstand use and maintain their integrity even under impact.
√

Easy Maintenance
Keeping your solid surface basin clean is effortless. Unlike ceramic materials that stain easily and are difficult to clean solid surface basins are non-porous and resistant to mold, mildew and bacterial growth. Regular cleaning with a mild cleaner or a recommended sponge will keep them looking fresh.
√

Design Flexibility
One of the features of solid surface basins is their ability to be customized according to different aesthetics and preferences. Whether you have an aesthetic vision for a minimalistic bathroom or prefer an intricate and traditional space solid surface basins can be customized to match your preferences.
√

Chemical Resistance
Solid surface basins demonstrate resistance to an array of chemicals commonly found in bathrooms and kitchens. This resistance ensures that the basins surface remains unaffected when exposed to cleaning agents guaranteeing long-lasting durability and an enduring pristine appearance.
√

Warmth and Comfort
Unlike some materials, solid surface basins have the advantage of better heat retention. This feature not only provides a tactile experience while using the basin but also ensures that the water inside stays warmer for longer periods contributing to a more enjoyable and efficient use of water.
Installation and Integration
Are you a DIY enthusiast? Let us help you with these installation tips.
▪ Installation Process
The installation is 100% DIYable but if you lack confidence in your DIY abilities then its recommended to opt for professional installation. The installation of solid surface basins is a process that can be easily handled by both DIY enthusiasts and professionals. It generally involves attaching the basin to the countertop or mounting it on the wall depending on its design. While the installation is relatively uncomplicated it is crucial to adhere to manufacturer guidelines and ensure a fit.
▪ Seamless Integration
One of the benefits of solid surface basins is their ability to seamlessly blend into various bathroom and kitchen designs. These basins can be made from the same material as the countertop creating a minimalist appearance. This integration eliminates the need, for professionals resulting in cost savings without compromising on aesthetics.
▪ Special Considerations
When installing these basins it is crucial to pay attention to details like sealing and support. Adequate support ensures that the basin remains stable and durable. If you have design requirements or limited space it is recommended to discuss them with your installer to achieve your desired outcome.
KingKonree's Solid Surface Basin Range
Now let's take a look at Kingkonree's range of solid surface basins known for their excellence in quality and innovation. With over twenty years of experience Kingkonree has built a reputation for delivering products that not only meet but exceed customer expectations. Let's explore some of the features and designs offered by Kingkonree;
√

Unique Features and Designs
One notable aspect of Kingkonree's solid surface basins is their meticulous craftsmanship and attention to detail. They offer a variety of basin designs carefully curated to cater to tastes and preferences. Whether you prefer a wall-mounted basin, a countertop basin or a luxurious freestanding basin Kingkonree has an option that will suit your needs.
1. Wall-Mounted Basins; For those seeking a touch their wall-mounted basins are worth considering. If you're looking for a space-saving and modern solution Kingkonree's wall-mounted basins are a choice. These basins are designed to be attached to the wall, creating a floating effect that not only adds elegance but also makes cleaning easier.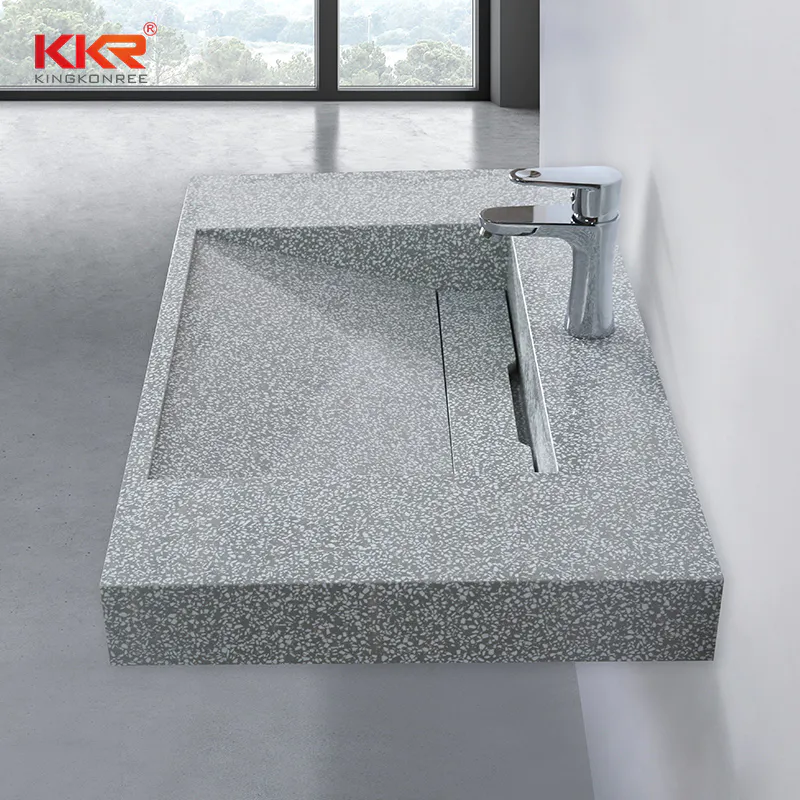 2. Countertop Basins; For an aesthetic look, in your bathroom or kitchen consider Kingkonrees countertop basins. These basins rest on the countertop, showcasing their designs and offering placement options. Whether you prefer a rectangular basin or a sculpted round one, Kingkonree provides various choices.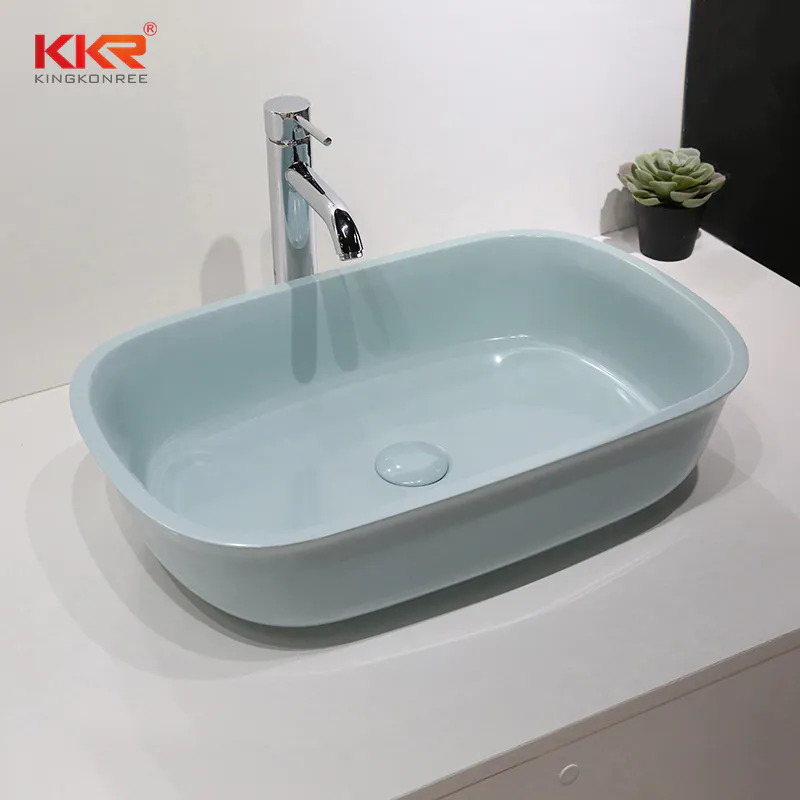 3. Freestanding Basins; Make a statement with Kingkonree's freestanding basins. These luxurious and sophisticated basins create a point in any bathroom adding opulence and style.
√ Customer Testimonials
The satisfaction of Kingkonree's customers is a testament to the quality and excellence of their products. Throughout the years Kingkonree has helped numerous clients achieve their dream bathrooms and kitchens. Their solid surface basins have been crucial in completing over 2000 projects for more than 800 clients. These success stories demonstrate Kingkonree's dedication to delivering nondurable and cost-effective products that meet and exceed clients' expectations.
Maintenance Tips for Solid Surface Basins
•

Cleaning Guidelines
To keep your surface basin looking pristine, follow these cleaning guidelines;
1. Use a mild cleaner or a sponge for regular cleaning.
2. Clean up spills of makeup, oils or tanning products promptly to prevent staining.
3. For cleaning, you can use fine-grit sandpaper to buff out any marks or scratches.
4. Always refer to the manufacturer's recommendations for cleaning products.
•

Addressing Common Issues
Although solid surface basins are known for their durability, occasional issues may arise. Here are some common problems and how to deal with them;
1. Stains; If you have stains create a paste using baking soda and water. Apply the paste to the area and gently scrub it with a soft cloth.
2. Scratches; Minor scratches can usually be buffed out using sandpaper. However if you have deeper scratches, it's advisable to seek repair services.
3. Dullness; To restore the shine of your basin consider using a countertop polish or automotive wax.
•

Recommended Cleaning Products
While mild abrasive cleaners like "Jif" are effective for cleaning there are also solid surface cleaning products available in the market that are specifically formulated to maintain the beauty and longevity of your basin.
Sustainable Aspects of Solid Surface Basins
Let's look at some of the sustainable practices opted for at Kingkonree
▪ A Choice that Benefits the Environment
When you choose solid surface basins it's not, about their aesthetic appeal and durability. It's a responsible decision for the environment. At Kingkonree sustainability is more than a word; it's a core value embedded in our manufacturing process. By opting for our surface basins you actively contribute to building a sustainable future.
▪ Durability and Eco-friendliness
One of the features of solid surface basins is their impressive lifespan. These basins are designed to withstand wear and tear in high-traffic environments. Unlike ceramic materials that often require frequent replacements, solid surface basins remain functional for many years. This extended lifespan significantly reduces the need for manufacturing basins thus minimizing the carbon footprint associated with production.
▪ Recyclability
At Kingkonree we recognize the importance of disposal and recycling. Our solid surface basins are not only built to last but also designed with recyclability in mind. When it eventually comes time to replace your basin rest assured that the materials used can be recycled, reducing landfill waste and minimizing impact.
▪

Reduced Resource Consumption
Compared to the other production processes of some basin materials manufacturing solid surface basins consumes fewer resources At our company we place importance on being efficient and making the most of our resources to minimize any energy or material waste during production. This commitment to use resources efficiency is in line with our dedication to practices.

In addition to material choices, water conservation is another aspect of sustainability that sometimes goes unnoticed. Our solid surface basins have porous surfaces, which means they require minimal water for cleaning purposes. Unlike basins that may absorb water and therefore need extensive cleaning routines our basins help conserve this precious resource and align, with sustainable living practices.
▪

Eco-Friendly Materials
When it comes to the materials we use for our surface basins we take pride in sourcing eco-friendly options. We carefully select quality acrylic resins and mineral compounds that not only ensure durability but also have a reduced environmental impact compared to other basin production materials. These materials are non-toxic and free from harmful chemicals, which contributes to maintaining indoor air quality.
Conclusion
Solid surface basins offer a combination of elegance and practicality. They are durable easy to maintain and provide design flexibility making them an excellent choice, for both homes and businesses. When it comes to surface basins Kingkonree stands out for its quality and wide range of designs.

Ready to explore the world of surface basins and enhance your bathroom and kitchen designs? Get in touch with Kingkonree today to discover the basin that matches your style and requirements. Whether you're renovating or starting from scratch Kingkonree has the solution for you. Feel free to reach out with any inquiries request a quote or share your thoughts and questions in the comments section. With Kingkonree you're a step away from achieving your dream bathroom or kitchen.