When it comes to design, bathroom fixtures play a crucial role, in defining both the style and practicality of a space. Among these fixtures counter top wash basins have become increasingly popular for those seeking an elegant and versatile bathroom decor. KingKonree, a name in manufacturing for over twenty years, has been at the forefront of creating stunning counter top wash basins that redefine bathroom design. In this guide we will delve into the world of top wash basins understanding their importance and exploring KingKonree's expertise in crafting these remarkable pieces.
Understanding Counter Top Wash Basins
▶ Defining Counter Top Wash Basins; Counter top wash basins are fixtures that are directly mounted on a level surface like a vanity unit or wall-hung basin shelf. Unlike regular basins, they don't connect to the wall at the back giving them a minimalist appearance in the bathroom. These basins come in multiple shapes, sizes and materials, making them a versatile choice for both modern and traditional bathrooms.
▶ The Significance of Materials; A significant aspect of top wash basins is the wide range of materials used in their manufacturing process. KingKonree provides a selection of materials, such, as solid surface, ceramic and glass each with its unique appeal and characteristics. This variety allows homeowners and designers to choose a material that complements the style of the bathroom.
▶ Advantages of Counter Top Wash Basins; Counter top wash basins offer numerous benefits. They become a focus point in bathroom design adding an element of sophistication and luxury. Their counter-top installation creates storage space underneath, helping to maintain a cluttered bathroom. Additionally these basins come in every design imaginable, making it easier to find the match for any bathroom.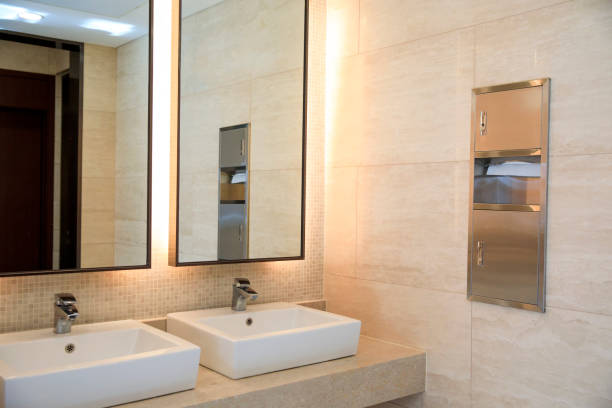 KingKonree Expertise in Sanitary Manufacturing
✔ A Rich Legacy; KingKonree has been involved in the world of manufacturing for over 23 years, refining their craftsmanship. Established a reputation for delivering high quality products that seamlessly blend form and function.
✔ The Product Lineup; KingKonree offers a range of products with counter top wash basins being one of their featured offerings. These basins exemplify the brand's commitment to excellence and innovation, guaranteeing customers an elevated bathroom experience.
✔ Innovative Designs; KingKonree's counter top wash basins are evidence of their dedication to innovation. These bathroom fixtures serve not only purposes but also enhance the beauty of any bathroom as works of art. Kingkonree stands out from its competitors by prioritizing quality and design.
The Versatile Design of KingKonree Counter Top Wash Basins
When it comes to creating a bathroom that reflects your style and complements the aesthetics of your home, KingKonree's counter top wash basins truly shine in terms of their design versatility.
• Exploring Diverse Designs; The appeal of wash basins lies in their innate ability to adapt to a wide range of bathroom styles. At KingKonree diversity is not an idea; it is, at the core of our product philosophy. Our extensive collection of wash basins offers a rich assortment of shapes, sizes and styles ensuring that there is an ideal match for every type of bathroom theme.
• Shapes for Every Preference; Whether you prefer the lines of design or lean towards the timeless elegance of more traditional themes KingKonree has got you covered. Our counter top wash basins are available, in different shapes, from ovals to sleek rectangles and even bold asymmetrical designs. These curated shapes provide you with options that seamlessly blend with the look and ambiance of your bathroom.
• Sizes for Every Space; Whether you have a powder room or a spacious master bathroom our range of top wash basins is designed to optimize both style and functionality. Take a look at our selection. You'll discover basins that are ideal for smaller areas as well as generously sized ones that make a bold statement in larger bathrooms. With KingKonree, size is never a limitation; it's an opportunity.
• Styles that Make an Impact; Your bathroom is like a canvas where you can express your taste and our counter top wash basins are the artistic elements that add character and charm. Whether you prefer the understated elegance of design, the bold allure of aesthetics or the timeless grace of traditional looks, our basin styles are meticulously crafted to cater to your preferences.
• Customized to Suit Your Preferences; We understand that true luxury lies in having fixtures tailored to reflect your taste and vision. At KingKonree, customization is not an afterthought; it's a feature.
• Captivating Color Choices; The color palette in your bathroom sets the mood for the space. We offer a wide spectrum of color choices to ensure that you find the perfect hue to complement your decor. Whether you're looking for the timeless elegance of white, the warmth of beige, the sophistication of black or a customized color that perfectly matches your unique vision KingKonree allows you to artistically create your dream bathroom.
• Distinctive Basin Shapes; No two bathrooms are alike. Your countertop wash basin should reflect the individuality of your space. KingKonree offers a variety of basin shapes each with its personality and practicality. Whether you prefer the curves of an oval basin the clean lines of a one or the captivating angles of an asymmetrical design our basin options are crafted to complement your personal style.
• Seamless Faucet Compatibility; Achieving a bathroom design lies in paying attention to every detail. With our focus on excellence we ensure that your countertop wash basin seamlessly integrates with your chosen faucet. Whether you opt for a wall-mounted faucet a deck-mounted basin mixer or a vessel filler faucet our basins are thoughtfully engineered to accommodate your preference.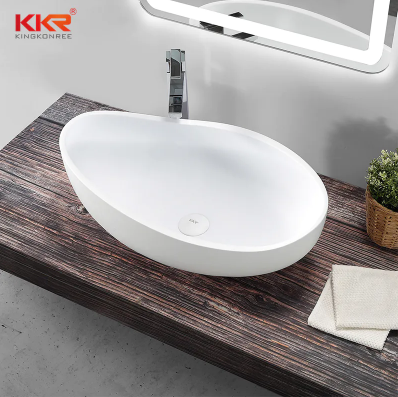 When it comes to designing your bathroom let KingKonree be your trusted partner in turning your vision into reality. Our commitment to design versatility ensures that your bathroom reflects your style and individuality. With KingKonree achieving your dream bathroom has never been easier.
Durability and Easy Maintenance
- Built to Last; We understand the importance of durability when choosing bathroom fixtures. That's why our counter top wash basins are crafted from high-quality materials that guarantee lasting performance. Whether you opt for solid surface or glass variants they are not only visually appealing but also built to withstand the test of time.
- Effortless Maintenance; Keeping your counter top wash basin looking pristine is a breeze with our fixtures. They are designed for easy cleaning and require minimal effort to maintain their fresh and new appearance. Regular cleaning with detergents is all it takes to preserve their shine.
- Peace of Mind; At KingKonree we have confidence in the quality of our products and stand behind them wholeheartedly. To ensure customer satisfaction and peace of mind KingKonree offers warranties and guarantees to protect your investment when making a purchase.
Installation and Customization
- Installation Guide; Installing a counter top wash basin can be easily accomplished as a DIY project for individuals minimal with skills. However if you lack confidence in your DIY abilities it is recommended to seek installation services. KingKonree provides guidelines to ensure a hassle-free setup.
- Freedom to Customize; At KingKonree we believe in empowering our customers to bring their bathroom visions to life. Our counter top wash basins come with a range of customization options. You can choose from an array of colors that harmonize with your bathroom's color palette, and select the basin shape that best complements your design aesthetic. Additionally our basins are compatible with faucet styles allowing you to create a look.
Environmental Sustainability Efforts
- Our Commitment to the Environment; In this age of environmental consciousness, KingKonree takes pride in our eco-friendly manufacturing processes. We are dedicated to minimizing our carbon footprint and embracing sustainable practices.
- Sustainability in Bathroom Design; The counter top wash basins from KingKonree contribute to creating sustainable bathroom designs. The materials used in their construction are environmentally conscious ensuring that your bathroom not only looks stylish but aligns with responsible living.
Comparing KingKonree Counter Top Wash Basins to Competitors
While KingKonree excels in the realm of wash basins it's important to make an informed decision. Conducting a comparison with offerings from brands in terms of quality, design and price can help you understand what sets KingKonree apart.
- Setting KingKonree Apart; What distinguishes KingKonree from competitors is its dedication to quality, innovation and customization. This brand doesn't just provide fixtures; it offers bathroom design statements that cater to the preferences of discerning customers.
Conclusion
The top wash basins by KingKonree go beyond being mere bathroom fixtures; they are a blend of artistry and functionality. These elegant and versatile basins redefine modern bathroom design by offering customization options while promising durability. As you embark on your journey of renovating or designing your bathroom space consider partnering, with KingKonree for an experience. Are you excited to dive into the realm of KingKonree's selection of countertop wash basins? Head over to our website and uncover a range of options that will seamlessly complement your bathroom project. Our team of experts is ready to provide tailored assistance in crafting a bathroom that exudes your style and refined taste.