An open storage space known as a shower niche can be installed in your bathroom's shower, tub, or vanity area. It resembles a storage space. Benefits of a bathroom niche include:
· Increased capacity.
· Assistance in coordinating restroom space.
· Additional opportunities to design and enhance the stylish.
Not only are shower niches functional and beautiful, but they also stand out as a distinctive feature of the bathroom's style. By incorporating a bathroom niche into your shower, you can say goodbye to shower caddies and other extra jumbled piles of containers. Here is a list of things you must keep checking while planning for your bathroom shower niche.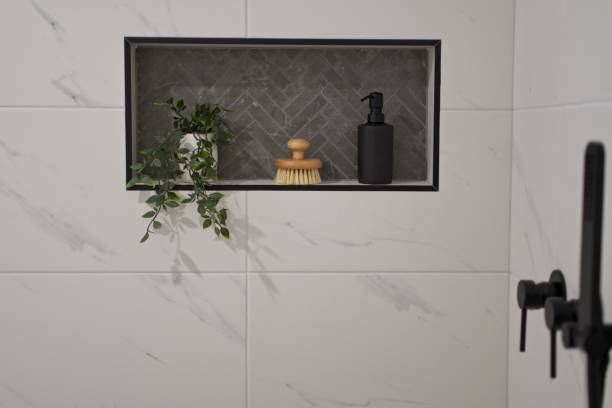 Choosing the Best Wall Style for the Niche
When selecting a wall for the niche, there are a few considerations. Additionally, it would help if you thought about where to put your shower niche. Number one: Before joining any design, check that your arrangement won't work with any plumbing or electrical systems. If you live in a cold area, the best option is to avoid the exterior wall. Consider where the water from your shower head will fall before positioning your niche away from the water stream.
1. Selecting the Right Position for the Niche
Consider how the space will be utilized when you locate the ideal location for your niche. It is preferable to position your niche between 48 and 60 inches high. Your niche should be set up to fit between the studs, usually 16 inches apart. However, many contractors can assist you in planning your space if you want a more individualized appearance.
2. Perfectly Fitting the Tiles into Your Bathroom Niche
We recommend selecting the tile for a fresh and perfect appearance first, then changing the shower niche's size to match the tile's aspects. Consider this for both the bathroom niche's sides and rear.
3. A Good Water Proofing for the shower niche shelf
Ensure your niche has a waterproofing system that doesn't give air access. Even a tiny amount of water can cause significant damage in the long run. Fill the space between the strength and the advocate board adjacent to the silicon after applying it to each screw head. After the silicone has dried, apply a waterproof layer to protect it.
4. Type of the Tile Setting and the Right Trim
The niche's overall effect can be significantly affected by the trim that is selected. Do you need tile or metal? Sharp or rounded edges? Do you want the color to stand out or blend in with the wall?
5. Investing in Custom Bathroom Shower Niche
To put it another way, a niche that is well-planned can look great, whereas a niche that is not well-planned can look awful. You must be pleased with the appearance of this project because it will last for many years.
6. Perfectly Styling Your Bathroom Niche
You will find maintaining the space's intentionality and organization simpler now that you have a lovely niche. If nothing you put on your niche looks neat, we have two styling ideas to keep it moving. Put things in gadgets for a perfectly organized appearance. Put in a plant to spruce up and give your washroom a flower fragrance.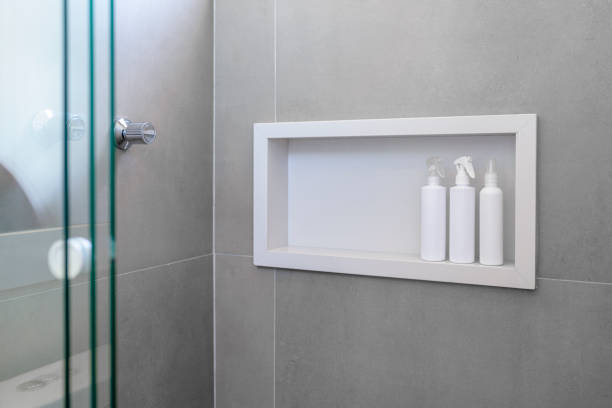 The Best Bathroom Niche Ideas for You
With a splash of color, this bathroom project shows how timeless and elegant a shower can be. For people who prefer a more conventional appearance, having a great variety, such as a hazier blue, is a great way to combine variety without being overly intense. It has a sleek and uniform appearance because it is still a member of the best tile family alongside the niche tile. Here are a few more niche ideas for you:
· Ombre Niche - Is it true that you're looking for a standout piece for your bathroom but don't know where to put it? Follow your showering routine! Picking an ombre configuration is an unfathomable technique for dressing your shower up and adding a sprinkle of character to a more unassuming district. This blue ombre niche is a stunning example of how this design can look!
· Monochromatic Moment - Monochromatic tile is a striking technique for concentrating on a single tone. A shower appears efficient and consistent when the niche is tiled with the same tile shape and variety. To tile a couple of walls, integrating a solitary tile into the niche is an excellent method for tying everything together and keeping a monochromatic look.
Where To Get the Best Quality Sanitary Ware From?
KingKonree has received the highest ratings from customers in more than 107 nations. They are an expert with 20 years of experience in sanitary ware design, improvement, and production, so we received the highest praise. Products emphasize efficient hot bowing, which, depending on the temperature, may result in warm framing. They are safe and do not cause allergies in any way.
Because of its outstanding properties, the KKR clean item is widely used in open areas like families, air terminals, lodging, emergency clinics, and public squares. Their free strategy division helps the improvement of our things for the most part, and our inventive work (Innovative work) pivots around an ideal and contemporary game-plan thought. To gloss up and smooth out areas of strength for the items, they use materials that have all passed the European test EN13501-ClassB-S1.
Conclusion
Not only are niches valuable and attractive, but they also stand out as a distinctive aspect of bathroom design. Cautious planning for that is how to make a niche perfect; this article carries everything you should remember as you remodel your bathroom niche.
A bathroom wall niche is a great way to give a bathroom a different feel and make it look like there is more space. You can use the numerous pre-fabricated niches available at KingKonree to help you create a luxurious environment.