Solid Surface Material is a striking through the market because of its durability and clean finish. This luxurious material is used in a plethora of sinks, counters, and bathtubs. Solid Surface is a chic and smooth material and is mainly known to be a core component in the manufacturing of Bathtubs. What could be better than a bathtub that complements the decor of your bathroom? Solid Surface Freestanding Bathtubs are the best item in the sanitary sector. And they also have a variety of characteristics. Solid surface is a timeless popular material that is growing in popularity owing to its striking aesthetic, sturdiness, and perks.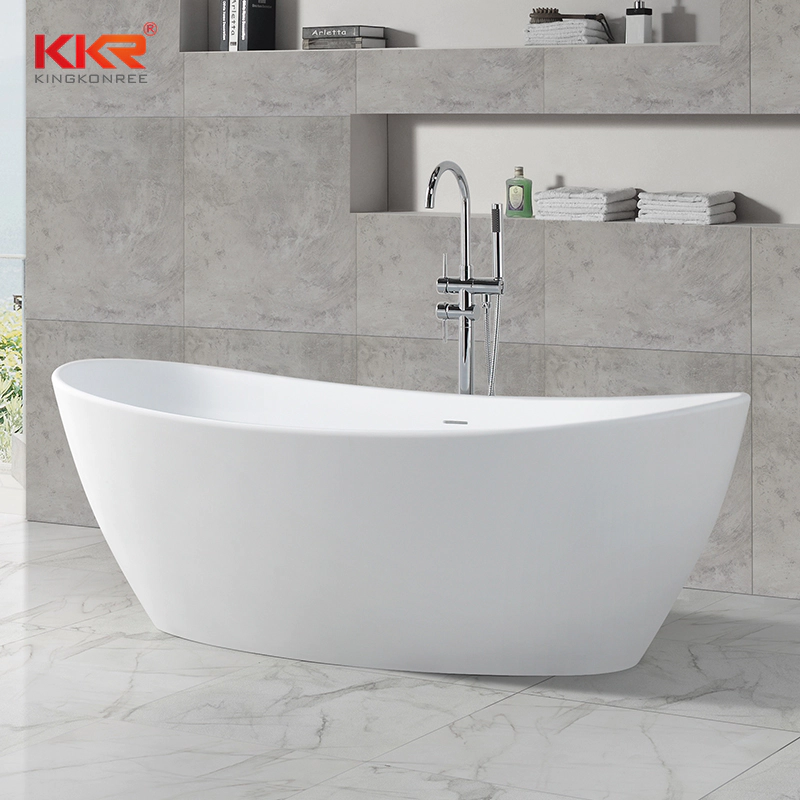 What Exactly Is a Solid Surface?
A solid surface is a unique element manufactured synthetically from diverse natural components. It also includes synthetic materials, plant-based resins, and polymers. A solid Surface is a substance that can be poured and perfectly molded into huge shapes, sizes, and patterns. It may be tailored to your excellent home design needs.
• A freestanding tub will let you exhibit your personality, whether you pick a luxurious claw-footed classic bathtub or an ultra-sleek modernist bathtub. It is pleasant to the touch and allows you to bathe for extended periods. If you're thinking about getting a freestanding bath, be sure your floor is strong enough to support its weight.
• The use of solid surface materials in bathtubs is still fairly modern. Solid surfaces are quickly turning into one of the most desirable bathtub materials. They are long-lasting and reliable but also hefty and rather costly. As solid surface materials are new in the market, it can be more challenging to locate information and manufacturing about this dreamy material.
The solid surface material is easy to repair, and scratches or chipping is rare. Purchasing Solid Surface Freestanding Bathtubs made of a solid surface may provide you with a wealth of benefits. Some of them are listed below:
1. Naturally Resistant to Stains, Mildew, And Mold
Solid surface freestanding bathtubs are known to prevent molds and mildew. Because solid surface tubs are made of a more rigid and durable material than acrylic. They are made of stainless steel and have a high polish on the solid surface, so there will be no stains on the surface.
2. Low-Maintenance and Simple to Clean
When you have a solid surface freestanding bathtub as your bathroom's interior, you don't have to spend time washing or cleaning it. This material does not require maintenance, so you can relax about investing in this timeless and everlasting product.
3. For Years, It Has Retained Its Brand-New Look
When purchasing a solid surface freestanding bathtub for your house, you should feel at ease and less concerned about what is trendy and what isn't since the branded appearance of this magnificent solid surface bathtub is unparalleled.
4. There Are Several Color Options
You are not out of possibilities when picking a beautiful color for your bathroom décor. Solid surface freestanding bathtubs come in a variety of colors, giving your bathroom a luxurious and aesthetically pleasing touch.
5. Nonporous and Hygienic
As solid surface freestanding bathtubs are nonporous, the water within will not seep out. It maintains its hygienic properties and allows you to enjoy a bacterial-free calming bath.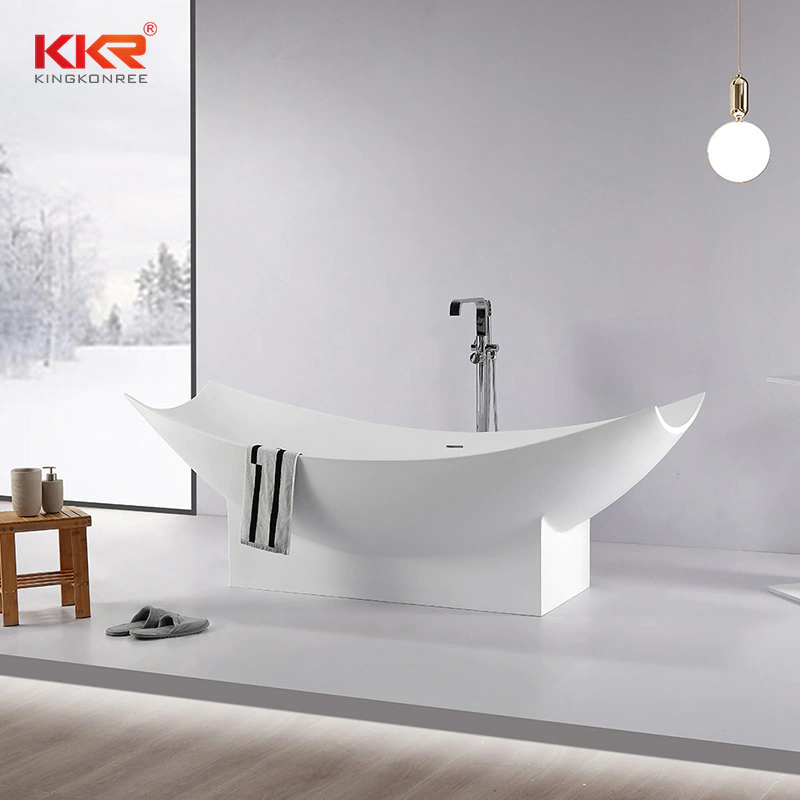 6. Seamless Appearance
This cutting-edge material's smooth and velvety touch makes it ideal for creating a vibe. With this ideal Solid Surface Freestanding Bathtub, you can take the look of your bathroom to the next level.
7. Perfectly Durable
By purchasing a solid surface freestanding bathtub, you can put your anxieties to rest because it will not break any time soon. Because of its excellent durability, it is the most efficient for even tons of weight.
8. Resistant to Heat
Even in extreme heat, the solid surface freestanding bathtub will not feel too hot. Because the materials used to manufacture this product are high-quality heat-resistant components, it can withstand high temperatures while remaining cool.
9. High Glossy Surface
This solid surface freestanding bathtub's fantastic sleek body entices everyone to get their hands on this gem. The grand texture is glossy and velvety to the touch and bathes in.
10. Eco-Friendly
Customers are approaching more realistic alternatives as the ocean and plastic issue has evolved. People prefer eco-friendly or biodegradable packaging in addition to morality. The body of a solid surface freestanding bathtub is made of eco-friendly elements that will allow your earth to breathe green.
11. The Illusion of Additional Space
A freestanding tub occupies more floor space than a built-in tub, yet it does not make your bathroom appear narrower. Placing a Solid Surface Freestanding Bathtub might provide the impression of extra room. The open area under the tub might make the bathroom appear larger than it is.
12. Nostalgic/Vintage Vibe
If you enjoy vintage, you will enjoy the freestanding tub. The style may give your bathroom a classic feel and the impression you've traveled back in time.
Best Solid Surface Freestanding Bathtub Manufacturer
Are you pleased with the qualities and features of this solid surface freestanding bathtub? And want to know who the top manufacturer in this sanitary sector can give you high-quality goods and items? If you're wondering which brand has the best pieces, go no further than KingKonree, which claims to have a one-stop supplying network with thousands of local and international dealers. They are based on a unique system that allows them to compete in the sector. This brand has officially entered the market for sanitary ware manufacturing and distribution. Countertops, sinks, shower trays, and bathtubs are all available. They offer everything you want, plus their excellent customer service will entice you to come for more.
In A Nutshell
The bathtub is one of the most often utilized items in your bathroom. It is ideal if you choose the bathtub based on your aesthetic and preference. But, without a doubt, the Solid Surface Freestanding Bathtub is an excellent investment for adding elegance to your bathroom decor. This bathtub is available in various sizes, colors, and styles that will elevate the appearance of your bathroom. Check out KingKonree if you're looking for the top producer of Solid Surface Freestanding Bathtub. They've made a name for themselves by providing high-quality items such as Solid Surface Freestanding Bathtubs. And they sell their high-end items at a very affordable price.