Believe it or not, there have been bathroom vanities for centuries! Grooming tools, cosmetics, and toiletries were stored in elaborate chests and boxes in ancient Egypt. These containers' layouts, typically stone or wood, were highly puzzling. In the present washroom vanities, you can browse smooth, contemporary plans with glass or metal accents to conventional wooden cupboards. Also, the decorations can include anything from beautiful mirrors to stylish lighting fixtures.
What are Bathroom Vanities?
A bathroom vanity is more than just a cabinet for the sink. Things like brushing your teeth, styling your hair, applying makeup, and shaving your head are all performed there. You also keep all the tools you use daily and other supplies for cleaning and using the bathroom. In some restrooms, it may be the most distinctive piece of equipment. It hides in a corner in various places. Swing it from a wall or place it on the ground to use it.
How to Choose the Right Hotel Bathroom Vanity?
Because a hotel bathroom vanity is a significant investment and you want to ensure you get it right, selecting the right bathroom vanity can be daunting. It would help if you didn't worry because you can find the best vanity to fit your interests and style preferences with the right research and careful consideration. Here are a few things you need to keep in mind when choosing a hotel bathroom vanity:
· You will need to consider the size of your bathroom. Select a vanity that is neither too big nor too small by carefully measuring your bathroom.
· Take into account the capabilities you need. Do you need to store a lot of grooming products and toiletries? If this is the case, you should go with a vanity with many drawers and cabinets.
· Pay attention to the tiniest of details. For instance, the overall appearance and feel of your vanity can be affected by the drawer and cabinet handles and pulls.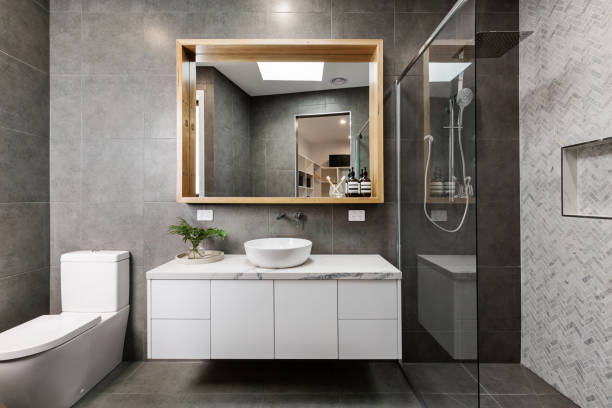 What are the Different Types of Hotel Bathroom Vanities?
The ordinary vanity is a rectangular wall-mounted bureau with an enormous open space underneath the sink for plumbing stockpiling. It typically has storage options for the pipes, capacity racks, and drawers for toiletries. The following are some of the more unusual options:
1. Corner-mount: On a small, three-sided vanity in the corner, there may only be one entryway, with barely enough space for the sink's plumbing.
2. Freestanding: This is set in a difficult spot despite not being joined. An illustration would be a vessel sink supported by a dresser that has been repurposed.
3. Console: Like the past dressing table, a control center vanity has a sink ledge upheld by legs. The plumbing can be seen by opening up the area below.
4. Wall-hung: A complete bureau or just an edge, regardless of what a skirt, that is introduced on the wall. These vanities are common in bathrooms that comply with the ADA because they provide wheelchair users with the legroom they need to get to the sink.
What are the Different Materials of Hotel Bathroom Vanities?
These are different hotel bathroom vanity materials that can be chosen upon personal choice:
· Wood Bathroom Vanity - Adding warmth and comfort to any bathroom is the best method for bringing the natural beauty of the outdoors inside. It's like bringing some of your countries inside your home.
· Glass Bathroom Vanity - The best way to stand out in a bathroom is with glass vanities. They are great for more modest rooms that require somewhat lighter since they are intelligent and smooth.
· Metal washroom Vanity - These are the answer for the people who accept that their bathroom should appear to be a state-of-the-art spaceship or a steampunk lab. Additionally, they are prepared to withstand daily mileage, making them highly long-lasting.
· Solid Surface/ Acrylic Bathroom Vanity - These are cutting-edge, durable, and simple to maintain. The non-permeable surface is resistant to staining, bacteria, and dampness and keeps a predictable appearance no matter the room's size.
· Laminate Bathroom Vanity - It is an unheralded yet extraordinary illustration of the washroom plan. Although they are ordinarily not as pompous as a portion of their more costly partners, laminate bathroom vanity offers an extraordinary bathroom arrangement. If you're looking for a cost-effective way to update the bathroom without breaking the bank, laminate vanities are a good choice.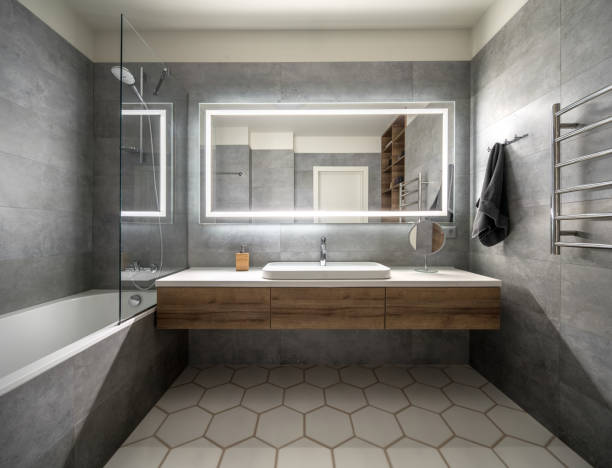 Where to Get the Best Hotel Bathroom Vanity From?
A bathroom vanity is essential to enhance the space's style and functionality significantly. You ought to have the confidence to find the best vanity for your necessities and individual style among the various decisions. You can get the best quality hotel bathroom vanity from KingKonree. They are vast sellers of solid surface sanitary ware.
A few key features they guarantee about their products are:
· KingKonree can be made to clients' details, designs, drawings, and pictures.
· Acrylic Solid surfaces can be repaired on-site in the event of damage, minimizing inconvenience and downtime.
· Washbasins or vanities with solid acrylic surfaces that are smooth and not porous. As a result, they will not encourage the formation, expansion, or growth of microorganisms.
· Sinks made of solid surfaces are sturdy, easy to clean, and easy to clean.


You can have a look at some of their best hotel bathroom vanity styles, including these three:
1. Stone Basin Hot Selling Solid Surface Stone Cabinet Basin Bathroom Cabinet
2. Marble Sink Wall Hang Wooden Vein Bathroom Vanity Cabinet
3. High-End Solid Surface Vanity Wash Basin with Customized Cabinet Set
Conclusion
Even though bathroom vanities may appear to be a straightforward addition to the bathroom, they can significantly alter the space's overall appearance and functionality. There are plenty of choices for hotel bathroom vanity, going from limited choices to exceptional plans and slick choices. Important aspects you need to consider while picking a bathroom vanity include its materials, size, and extra features covered in this article.