Bathtub is one of the most favorite spaces among homeowners whose ultimate joy lies in having a relaxed showering time with the touch of modern technology in bathroom ware. Taking a bath is the ultimate in relaxation, unfortunately, bathtubs are magnets for soap scum, mildew, and grime, not to mention stubborn stains caused by hard water or rust. So it's necessary to know how to remove the stains from bathtub.

Main points of this article
1 How bathtub get stains
2. Ways to remove stains
3. Choose the right bathtub
How bathtub gets stains
The white and flawless bathtub gives people a visual and psychological pleasure, but as time goes by, the bathtub will always become stained. There are several reasons why the bathtub is full of stains. When you don't completely drain the water in the bathtub, the water stains will become a paradise for bacteria to breed. This will make your bathtub get stains, in addition, the minerals in the water will settle in the bathtub and make the bathtub yellow.
Ways to remove stains
The stain on the surface of the bathtub is very stubborn, but some common items in our lives remove stains effectively from the bathtub, like salt, salt is very powerful in removing stains from the bathtub. Mix salt and turpentine in equal proportions. And then just apply the solution directly to the stain, it is convenient and healthy. Remember to wear rubber gloves when using this method. Finally, wash your bathtub thoroughly and you will be able to make your bathtub the same as the new one.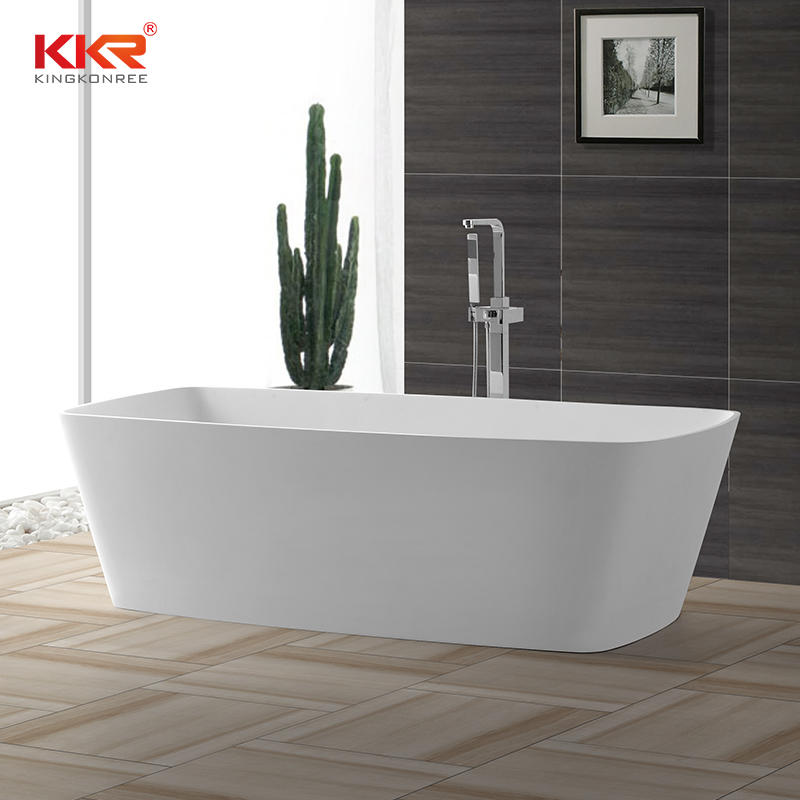 Choose the right bathtub
Choose the solid surface bathtub made of high-quality acrylic solid surface which is a kind of renewable and recoverable material. This material is gel-coat stone resin, which makes the product be resistant to deterioration and minor damages. With a solid surface, the product features are maintained easily, easy to clean up and polish. It is also characterized by its anti-yellowing and keep a glossy and attractive appearance for a long time. More importantly, the product is anti-moisture and anti-humidity, and prevent us from slipping, Ultimately, keeping your bathtub clean on an ongoing basis requires diligence and discipline. Each time you bath, or as often as possible, try to rinse the tub surface with clean, warm water, before wiping off the excess moisture with a squeegee, microfiber cloth, or sponge. Doing so goes a long way to prevent soap scum, mildew, and grime, which makes more involved and effective cleaning unnecessary.
Summary of this article
Remove the stain from bathtub is an annoying job, but you can easily solve this problem by choosing KKR. KKR solid surface bathtub has received a lot of positive feedbacks like innovative design and superior quality since launched from customers from over 107 countries. There are also various colors like black, white, gray, and beige and different shapes including round, rectangular, and irregular shapes offered to satisfy customers' different requirements. Just click the link, you don't have to worry the stain problem anymore.