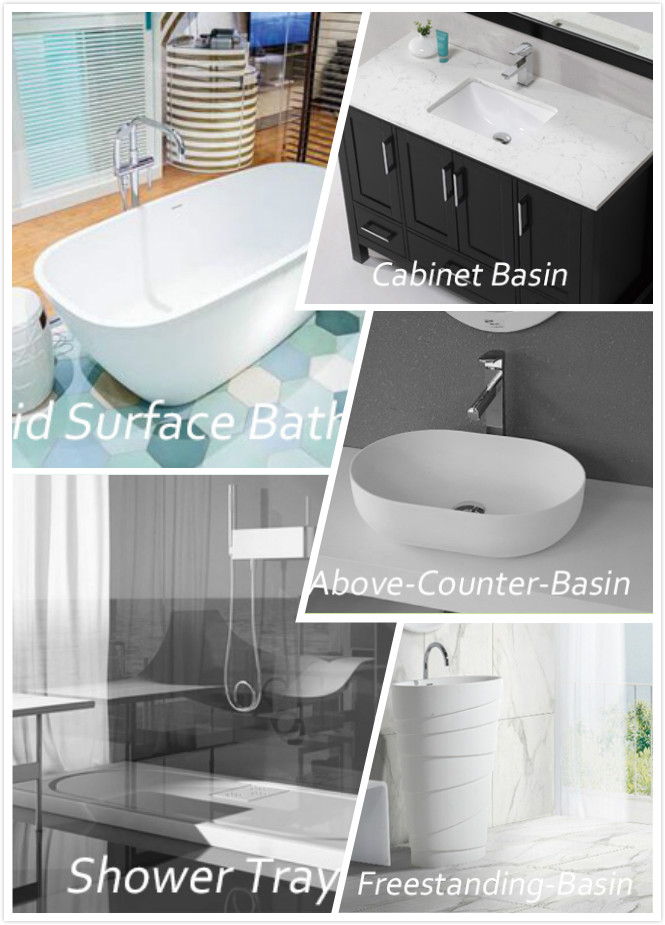 Homeowners, builders, and real estate agents have never found it easier making choices on the best vanity tops because both cultured marble and solid surface styles are beautiful and functional. But the fact that your decision highlights your antiquated or ultramodern taste makes it even more challenging. This overwhelming difficulty is more so with the evolving technology-driven developments in architecture and building constructions.
Your choice of the decorating theme for vanity tops is therefore descriptive of—not just your individual taste—but the underlying personality traits which any knowledgeable lover of arts can decipher, at first sight, an indication of the importance of blending durability and aesthetics. Do you want to showcase your creativity and relaunch yourself into the bliss offered by perfect, unblemished and exceptional vanity tops? One thing you should know is that cultured marble vanity tops and solid surface vanity tops are prone to damages caused by harsh environmental conditions, but your decision can either prolong or hasten the negative impact—a reason we must offer some explanations to help you in the decision-making process.
First, vanity tops in the bathroom generate moisture and, when used in kitchens, had to contend with water in addition to the weight from kitchen items like pots, cups, plates, etc. Cutting your groceries on vanity tops also expose them to abrasions. These challenges buttress the need for you to apply caution while considering your best option. The truth is: there are lots of materials to choose from. The problem, however, lies in ignorance. Knowing the right and durable combinations will reward you with vanity tops that deliver good service and consumer satisfaction for many years.
What building do experts think about the different quality of vanity tops?
Vanity tops have different designs, sizes, and colors and are built to withstand pressures from harsh environments for a long time despite the frequency of usage. Some of the common types of cultured marble and solid surface are made of ceramic, acrylic and laminate, including other natural stone materials such as marble, granite, and slate. In bathrooms, vanity tops may be constructed with an in-built sink or a cavity made for one or twin sink to allow access to more than one person at a time. These designs are easy to maintain, especially when the countertop unit is constructed with a cavity carved at the middle to create room for sink installation, a configuration which provides flexible home design choices on styles and colors.
•Laminate vanity tops come in a variety of colors and are durable, inexpensive, and easy to clean, and can last many years in bathrooms— which are considered the harshest environment. Laminate vanity tops are widely used around the world and building experts find them appealing because of the inbuilt capability to resist scratches and stains—an advantage achieved with matte, wood grain or glossy finishes.
•Ceramic vanity tops are one of the commonly used types that are easy to clean and maintain. It is often constructed with glazed or unglazed finishes and may be customized with different colour mixes as desired. Experts suggest the use of grout sealers to eliminate chances of mildew growth.
•Acrylic vanity tops are durable and easy to maintain because the sturdy synthetic material used in acrylic tops makes it stain and scratch-proof, with high resistance to mildew. Experts suggest the use of acrylic tops because they are easily repaired when damaged.
Solid Surface Vanity Tops vs Cultured Marble Vanity Tops
It is natural for people to think of beauty when choosing vanity tops because they enhance the overall appeal of your home. Solid Surface is designed with resins, acrylics, dyes and marble dust. The finish may look like granite, marble, quartz, wood or stone, often with different colors and patterns made of matte. Solid surface vanity tops are cheaper than cultured marbles and tiles. Cultured Marbles are similar to solid-surface countertops but are made of fillers, pigments, polyester resins, and a catalytic agent. Cultured marble may be designed with a matte of high-glossy finish, with options of a molded sink and backsplash.
The following tips are therefore very important:
Your style matters. For example, you may need the small-size bathroom for daily use but, depending on the available finance, others may need Jacuzzis, powder rooms, or space for a large family to keep toiletries. Consider the purpose served by your vanity tops and reflect on future needs before choosing.
Decide on using cultured marble or solid surface before drawing a house plan. Having one in mind—at the right time—can aid decisions on the size thus saving you time, money and stress.
Cultured marble and solid surface are similar, made from the same materials, and serve the same purpose. Cost of materials makes the difference. Moreover, available construction styles increase when you choose custom-made materials for your vanity tops.
Nonetheless, it is tremendously important to get a purely reputable solid surface supplier for functional solid surface products, purportedly, the majority of seekers target at ASEAN, where there are rich in cheap labor.