| | | | |
| --- | --- | --- | --- |
| Product Name | Solid Surface Washbasins | Material | Solid Surface |
| Size | 914.4x558.8mm | Surface | Extraordinary and Elegant Design |
| Surface | Matt / Glossy | Shape | Round/square/rectangular/oval or irregular |
Introducing Solid Surface Washbasins with Integrated Countertop: A Design Craftsmanship of Unparalleled Smoothness and Delicacy
KKR Solid Surface Washbasins with Integrated Countertop are meticulously crafted to provide a design aesthetic that is as smooth as milk,
delicately refined, and as soft to the touch as a baby's skin.
At KKR, we understand the importance of creating a harmonious and luxurious bathroom environment. Our design craftsmen have poured their expertise
and passion into every detail of our Solid Surface Washbasins with Integrated Countertop, ensuring a product that transcends expectations and elevates
your bathroom experience.
The secret behind the extraordinary smoothness of our washbasins lies in our meticulous manufacturing process. We employ cutting-edge techniques that
result in a surface finish so flawless, it is reminiscent of the silky texture of milk. Every curve and contour is honed to perfection, creating a seamless and
visually stunning masterpiece that exudes sophistication.
KKR Solid Surface Washbasins with Integrated Countertop not only captivate visually but also provide a tactile experience that is unmatched. The surface
of each washbasin is as delicate as a baby's skin, inviting you to run your fingers across its velvety-smooth texture. The sensation is truly indulgent,
transforming your daily routine into a moment of pure luxury.
But the beauty of KKR washbasins extends beyond their aesthetic appeal. Crafted from the finest solid surface materials, they are not only visually stunning
but also incredibly durable and resistant to wear and tear. Our washbasins are designed to withstand the test of time, ensuring that your investment in luxury
is one that will endure.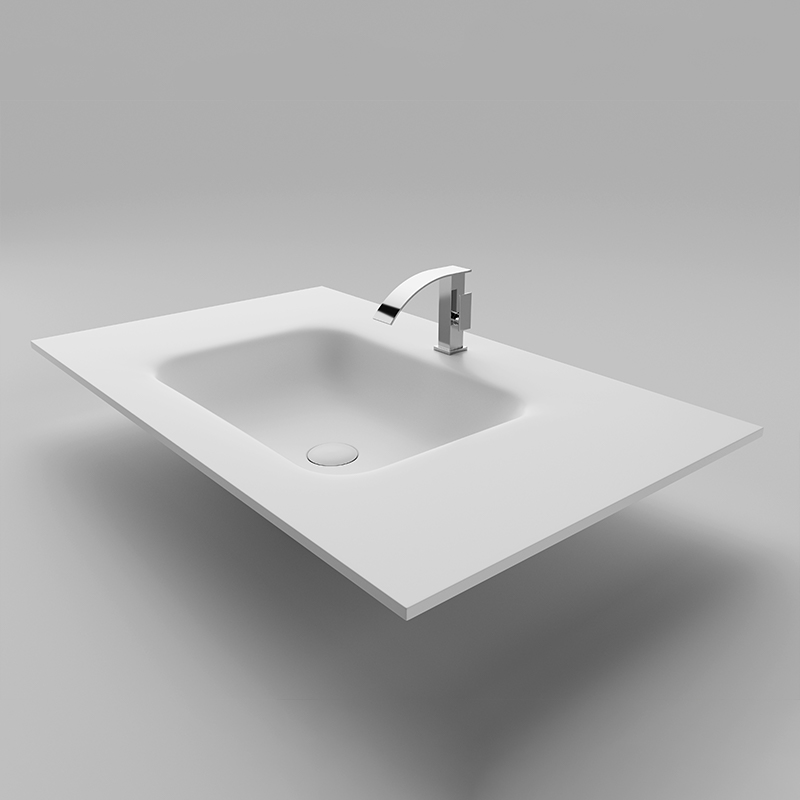 In addition to their exceptional craftsmanship, our Solid Surface
Washbasins with Integrated Countertop offer practicality and
versatility. With their integrated countertops, they provide a
seamles and clutter-free design solution, maximizing both space
and functionality.
The clean lines and minimalist aesthetic of our washbasins
effortlessly blend with any bathroom style, making them
the perfect choice for both contemporary and traditional settings.
Indulge yourself in the unparalleled smoothness and delicacy of
our Solid Surface Washbasins withIntegrated Countertop.
Experience the luxury of a design craftsmanship that rivals the
softness of milk and the delicacy of baby's skin.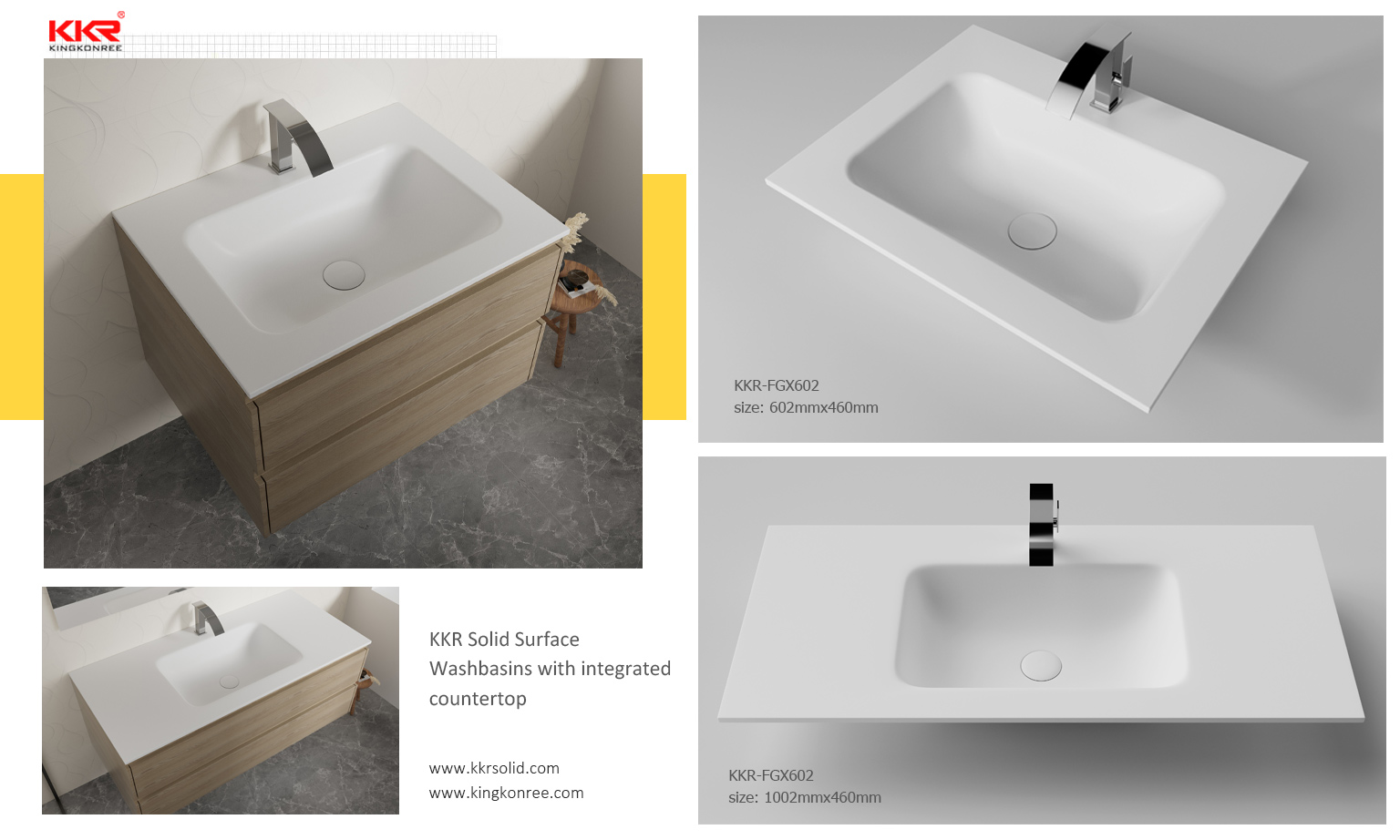 Hotels, households, gymnasiums, beauty salons, apartments, suites, villa, etc.
Kingkonree is the No.1 solid surface entire ranges manufacturer in China.
Our factory is located in Huizhou, Guangdong, and covers an area of 25,000 square meters. For now, we are shipping over 1200 containers
to 126 countries each year, covering every type of product under solid surface product categories.
To ensure our customers get superior support, KKR put in great effort to our product quality and service upgrade:
Our resin percentage for Bathroom series is 40%, which is 33% higher than the overall China level. And only top tier material will be used
in our production. We insist on Chinalco® aluminum powder and LR® color paste for 2 decades to secure our quality stability.
Meanwhile, KKR quality warranty is extremely long to 10 years. All prevelant testings are passed, including CE, SGS, CUPC, CSA,
and PROP65. We aim to keep you away from any complaint headache.
At KKR®, we are not offering a product, but also optimization and upgrading for it. During 23 years of development, we accumulated
over 1000+ molds for solid surface products.
Such reserves provide unlimited design choices for our customers, and can greatly shorten our time to turn your new idea into a realistic
product. So you are always ahead of your competitors, catching the market trend faster and leaving them all behind.