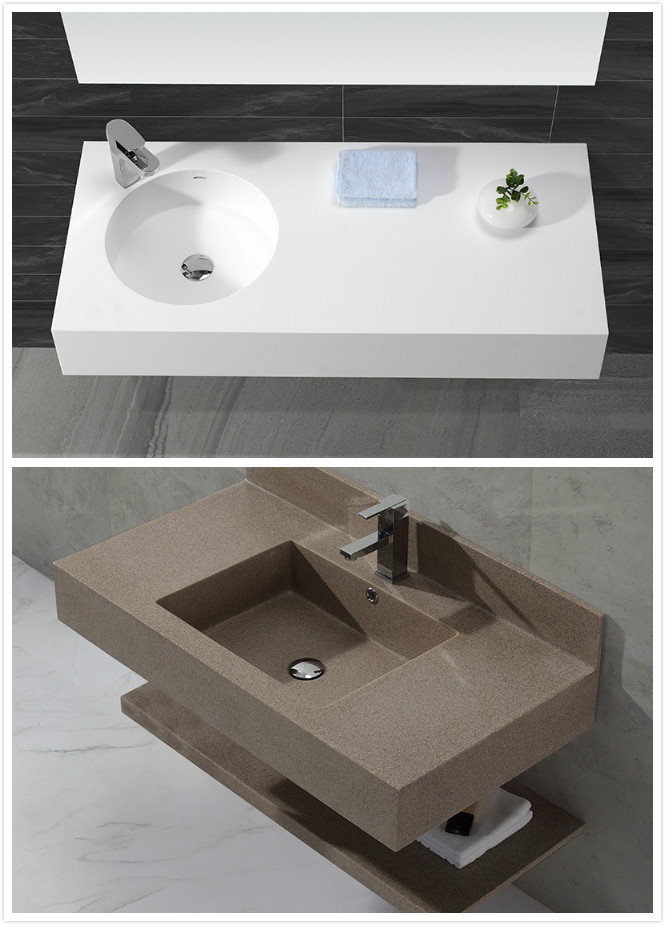 The basin is a common thing in every hotel or house etc. Mainly the structure of all basins is a type of round container like a bowl. Now, everyone knows that how a basin works. A round shape of bowl made of marble and sometimes we see basins are made of steel. In this century the interior decorators' work is to make our rooms, homes beautiful and attractive. The focus on the things is mostly kept dirty in rooms, kitchen or bathrooms, etc.
The wall mount basin is established on screws and plumbers set it on stands which stands are added to the wall. In the comparison of normal basin and wall mounted basin, the wall mounted basins are looks more attractive. When a basin has another stand under this there is a waste of passage. If someone sets a wall mount basin then the outer pipe of waste water goes behind the wall and it looks better not to open dirty things like waste water pipe.
These types of basins were rarely seen in 5 star hotels and restaurants. But now the interior decorators and luxurious houses contain wall mounted basins in their bathrooms. It saves passage. You can put another useful thing under the basin body. But if there is a stand you cannot put anything useful under this and basins which have stand make the place dirty.
If any plumber wants to know how a wall mount basin he can see many YouTube video links. That's very easy too to install a basin.
As you can see there is little space taken by wall mount basin. There are lots of designs. Some designs are as much attractive that you will think about it to set a wall mount basin in your own house. As benefit, this product makes our rooms cum home attractive. Nowadays the population grow up is noticeable in many countries so many flats, apartments are made. The person who lives in 1 BHK flats or the students who lives in small rooms at mess and hostels they need passage. The things like the wall mounted basin, wall hanging toilets, little gases etc. are very useful to them.
They hostels should apply this type of things too. Their students will get more passage to live. The wall mount basins are also easy to wash. Cause it has no bigger size. There is another benefit to fix or to set this. If someone set the basin on the flash box of toilet it gives a opportunity to save water. The waste water will go in the flash and then when you flash water then the waste water of basin can be used in toilet washing. This technology will save water. And we all know that the whole world is suffering from water level drop.
These benefits are simple. The mostly consulting matter is to make everything beautiful, Attractive. Every person wants to make his room, his home attractive than others and they try to give better to his home decorations. The wall mount basins are mostly more costly than normal basins so someone can say that is this not a waste of money? His logic will be that both do the same work then why I set this in normal rooms. This is not true. The wall mount basins help to grow the attractions of rooms too but similarly it also saves passage.
STRUCTURE OF WALL MOUNTED BASIN EXPLAINED SHORTLY:
The basin consists of a bowl, soap tray, outlet, water overflow connected to the outlet and holes for fixing taps. The wall-mounted basin is fixed on brackets screwed to plugs in the wall. The pedestal basin consists of a basin and a separate vitreous china pedestal that is to hide the trap, waste and hot and cold service pipes. Either the whole or a large part of the weight of the basin is supported by the pedestal. A resilient pad is fitted between the bottom of the basin and the top of the pedestal as the two separately made fittings rarely make a close fit.
The majority of washbasins are made of vitreous china, although stainless steel is popular alternative. Hot and cold taps connected to 12 or 15 mm hot and cold distributing or supply pipes are fixed to washbasins. An overflow is usually formed during the manufacture of basins, which consists of a hole in the top of the basin, which can drain to the outlet.
A waste outgo, with slot to drain the weir overflow, is formed in the basin. A waste is fitted to the outgo, bedded in setting compound and secured with a back nut.
CONCLUSION->>
The wall mount basin is very useful and it makes our houses more attractive. These useful things should be applied in future to make passage in hostels, messes, small rooms etc.
More industrial knowledge, welcome to reach KingKonree International China Surface Industrial Co.,Ltd , we will fill you in with more info.