With hundreds of shapes and sizes to choose from, buying a tub can be overwhelming, for homeowners, buying a bathtub is always a annoying experience, because there is a dizzying array of shapes, sizes, and material available today, but it is a decision you want to get right, You need to know what your bathtub made of , the bathtub material you select determines the tub's price, durability, and clean ability. only in this way, you can choose the right bathtub.
Here are the main points of this article
1. Solid-surface materials tubs
2. Cast iron
3. Acrylic bathtub
4. Cultural marble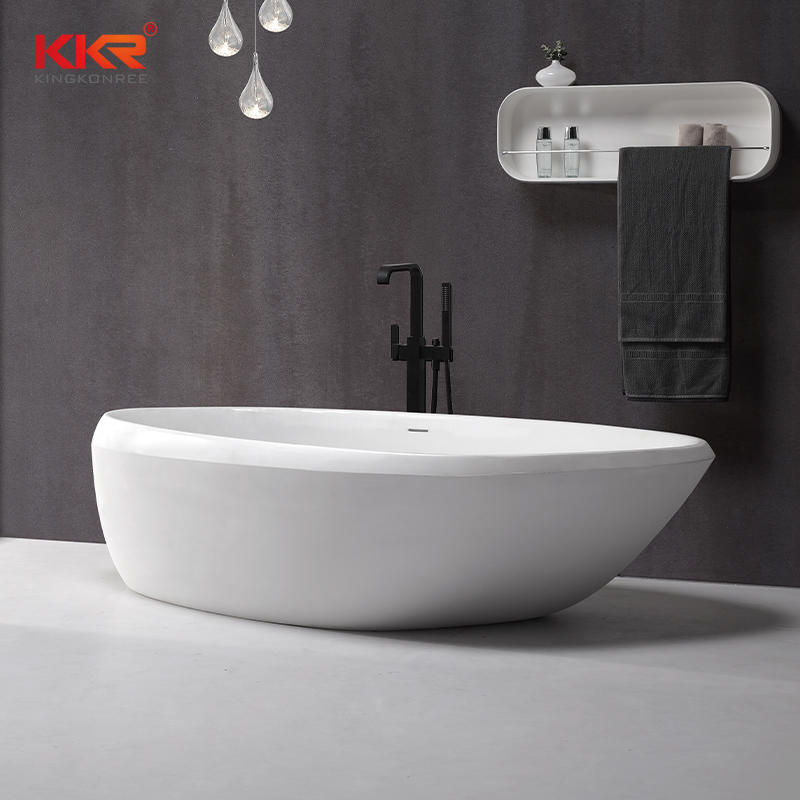 Solid-surface materials tubs
Solid surface materials are relatively new products in the bathtub market. They are durable; they retain heat very well; there are a variety of subtle, natural colors to choose from; surface treatments can be repaired if needed. They can also be made in a variety of shapes and sizes.The downside is that they are a bit heavy and relatively expensive and can take a long time to prepare.
Cast iron
If you are looking for a durable bathtub, case iron bathtub is a great choice. Cast iron are made by pouring molten iron into a mold of the desired shape, then,smoothing it and applying a thick layer of enamel. Cast iron bathtub is probably the most durable bathtub available today, and the surface of cast iron bathtub is resistant to cuts, scratches and dents, as well as most types of chemicals. There are many different colors to choose from. This heavy substance also retains the heat of the water, which makes cast iron bathtub has a good thermal insulation. On the downside, this bathtubs are very heavy and require extra labor and extra floor reinforcement for installation. They will also be one of the most expensive bathtubs on the market.
Acrylic bathtub
Acrylic bathtubs are reinforced with glass fibers under vacuum formed colored acrylic sheets. Although the acrylic bathtub is more expensive, its advantages are similar to those of fiberglass. The disadvantage is that the coating may scratch or fade over time, although the integrity of the bathtub has minimized this problem. You also have a lot of shapes, sizes and colors to choose from. Acrylic is a good all-round choice, although it may lack the high-end appeal of some people.
Cultural marble
This bathtubs are made of a mixture of crushed limestone and resin and then coated with a gel coat. You have many choices in color, size and style, and the gel used to grow marble is more durable than fiberglass. The cost is usually between acrylic and cast iron.
There are so many factors that affect the durability of bathtub, buying the best bathtub for your bathroom isn't a easy job. One has to be well-prepared and willing to do the research between hundreds of bathtubs to find the ideal one. It's a tough job, or you can just visit our website to find the most durable bathtub, We use high end materials to manufacture our bathtubs to provide customers a healthy and refreshing bathing experience and guarantee the quality of our bathtubs.