The "KKR Sanitary Ware Exhibition" once again showcased KKR's resilience and vitality, attracting significant attention and ushering in a new era of global trade cooperation.
Stepping into the KKR exhibition hall, you can immediately sense the unyielding spirit of KKR. Underpinned by innovative and environmentally friendly products,
KKR draws a continuous stream of enthusiastic buyers eager to discuss and explore new opportunities.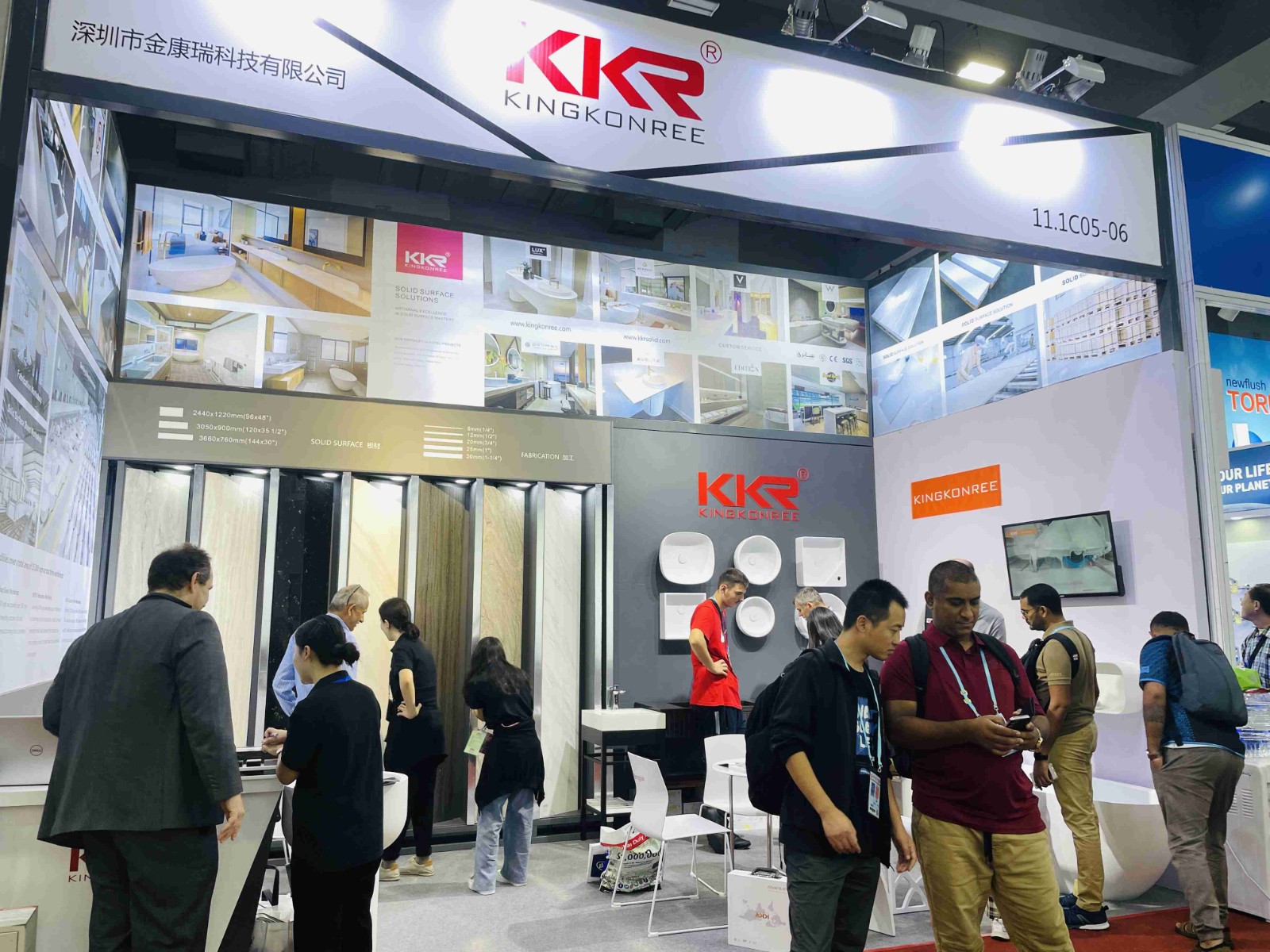 At the 11.1 C05-06 exhibition area, KKR's solid surface patterned panels and countertops captivated a large audience. KKR staff warmly and meticulously introduced
the product features and advantages, allowing customers to gain a deeper understanding of the renowned KKR brand. Additionally, a live factory video presentation
provided customers with a firsthand look into KKR's workshops. It can be said that this Canton Fair provides an excellent opportunity to showcase KKR's strength and charm.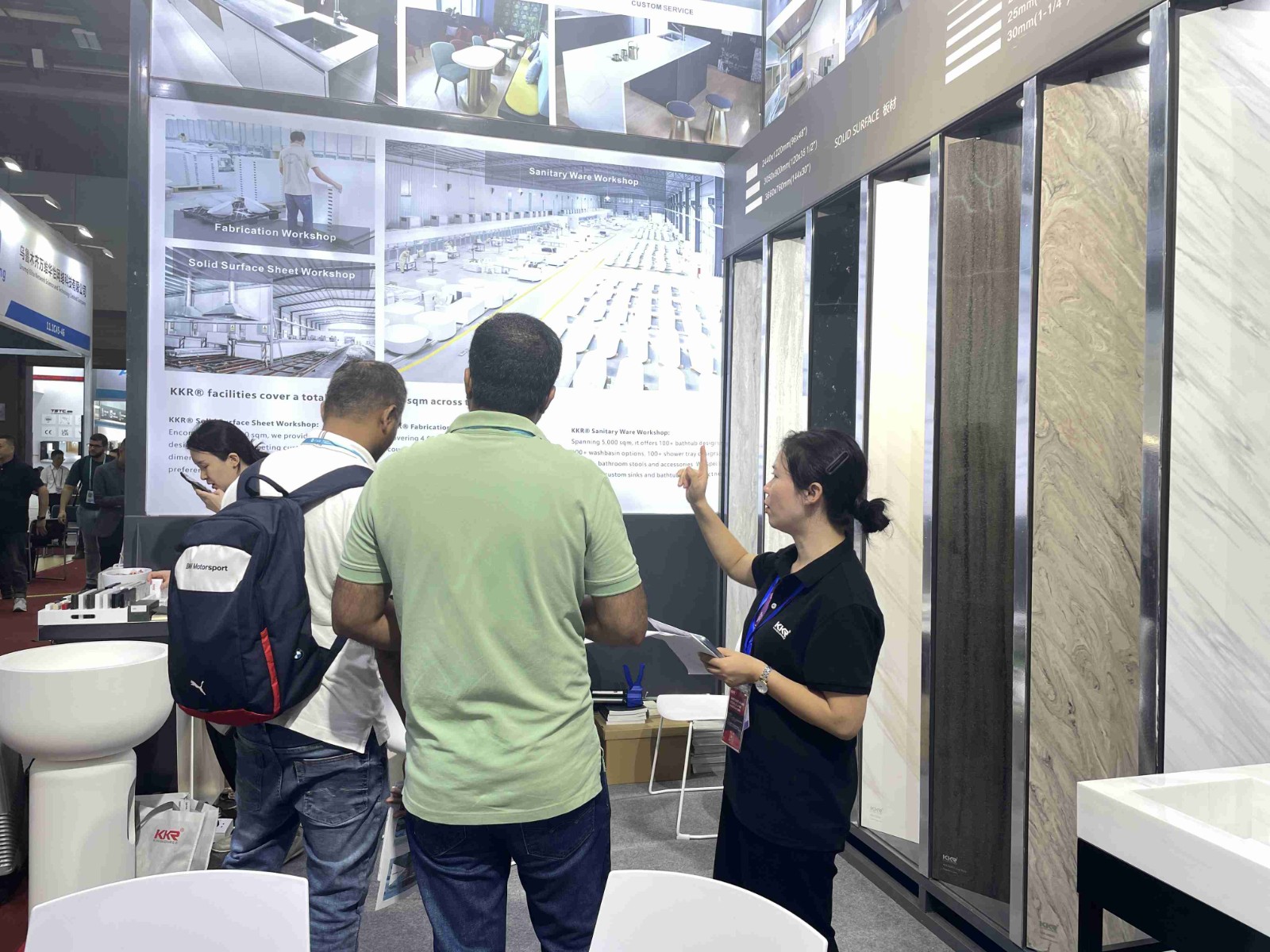 KKR has long been known for its high-end customization philosophy. Our products not only offer practicality but also embody unique and artistic designs. This design philosophy
is fully demonstrated at the Canton Fair. Our booth design is simple yet elegant, and the product display area is full of surprises.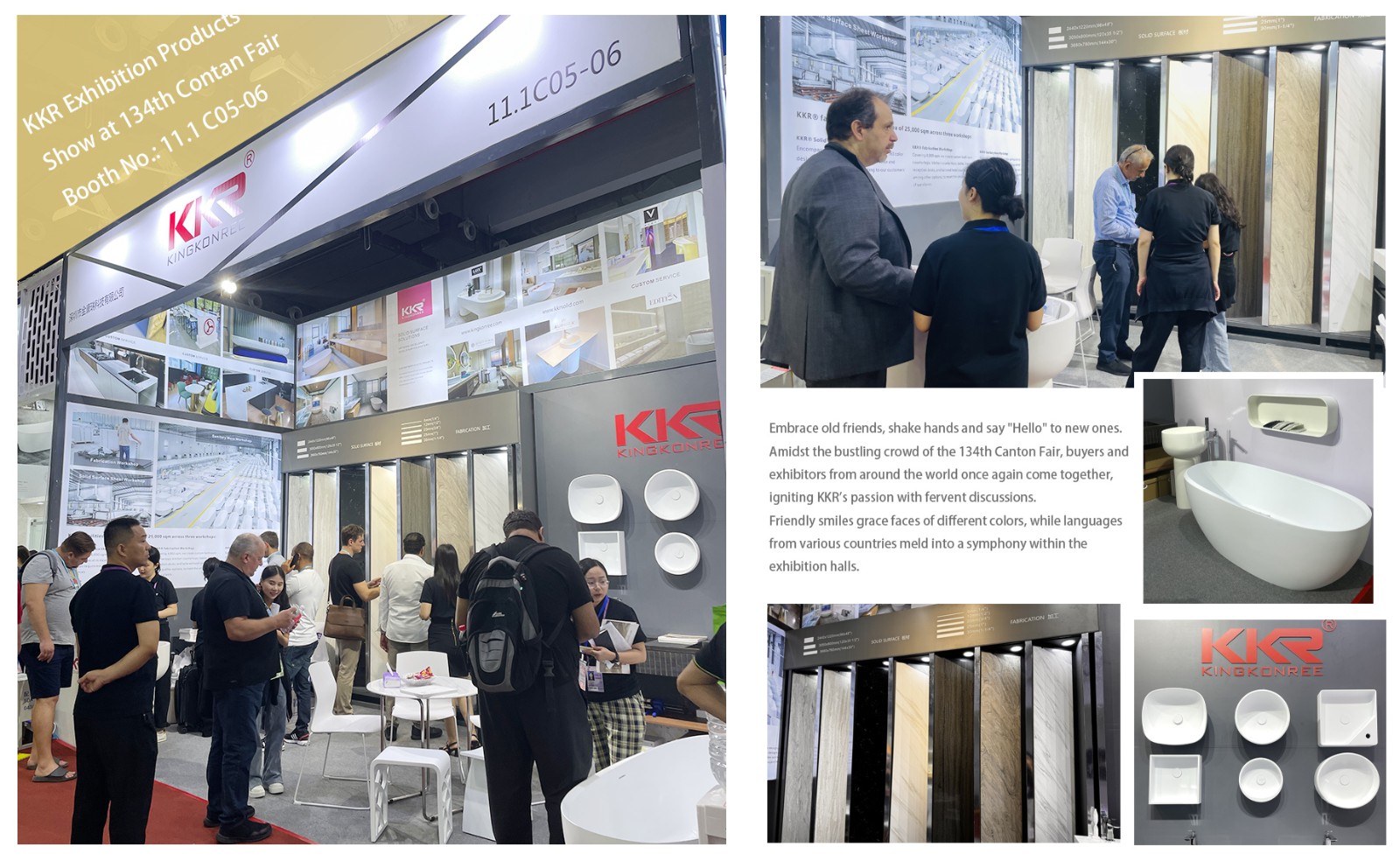 At this Canton Fair, KKR products incorporate advanced design concepts and technology to meet consumers' demands for high-quality bathroom products.
The Classic White Vessel Basin series offers solutions with various mold sizes, shapes, flexibility, and wide applicability, committed to providing innovative, customized bathroom
space experiences. The Pattern Series, with its minimalist design and versatile custom matching options, fulfills color-matching preferences, making the products more user-friendly.
Customized products with exquisite appearances and exceptional quality have become a highlight of this exhibition.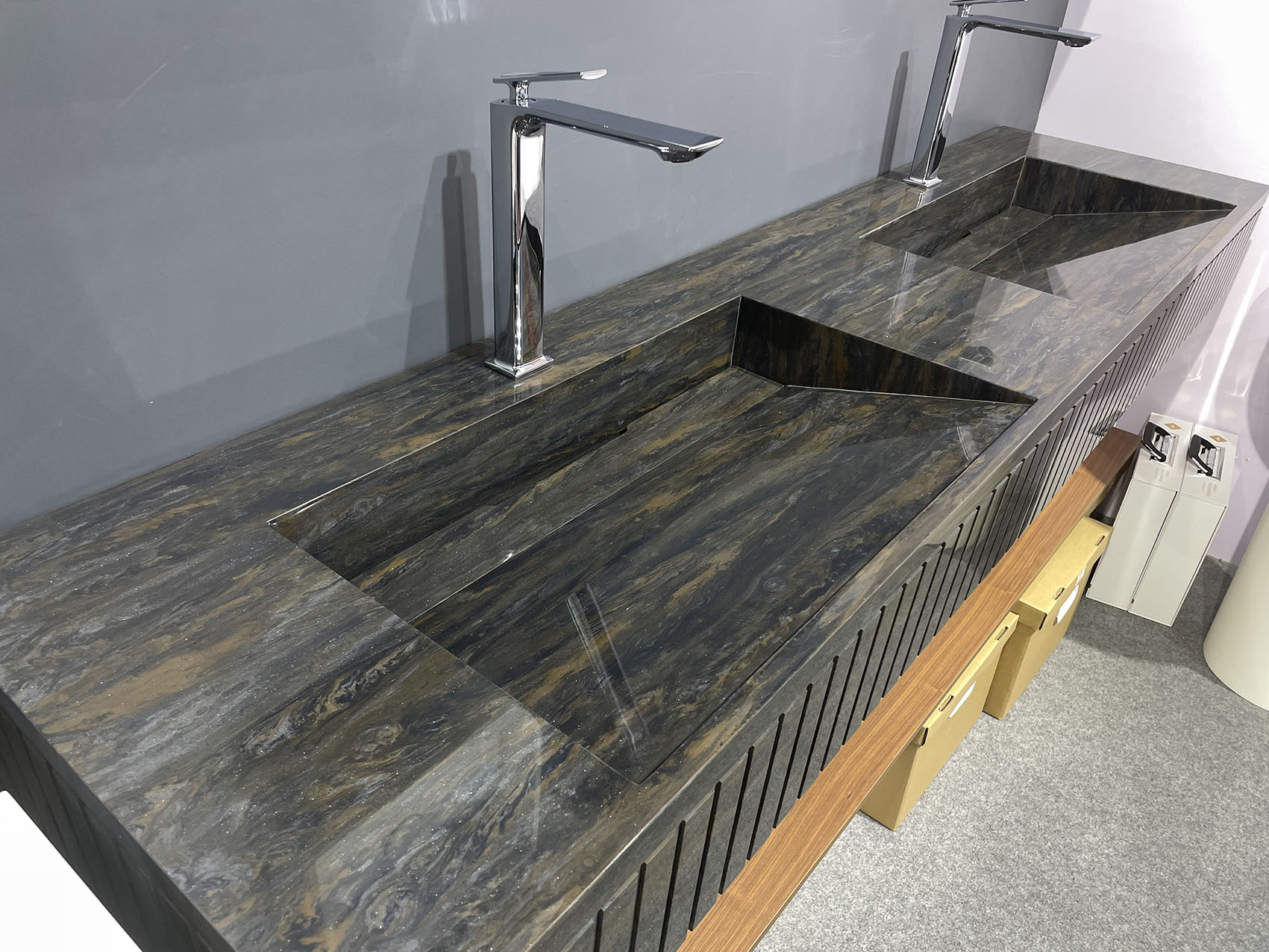 Since its establishment, KKR has adhered to the corporate philosophy of "rigorous product development, technology, and excellent service," dedicated to providing consumers with
high-quality bathroom products. With outstanding quality and innovative craftsmanship, KKR has won the hearts of consumers.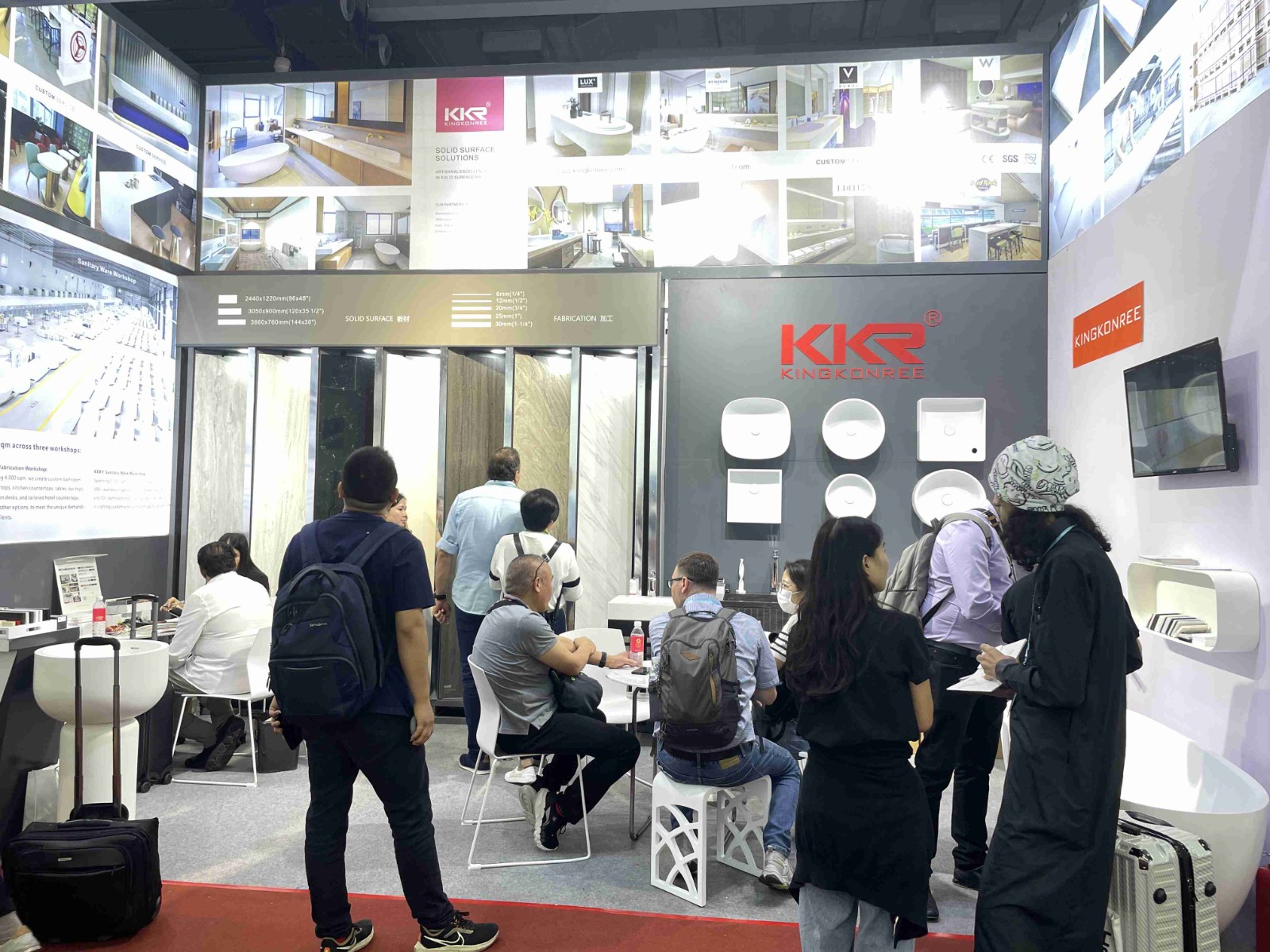 KKR's remarkable performance at the 134th Canton Fair undoubtedly offers consumers more choices. If you have an interest in bathroom products, we sincerely invite you to visit the
KKR factory and experience the new bathroom trend that KKR brings to you!