Solid surface was created in the late 1960s as an affordable alternative to other countertop materials. What first started as an installation for kitchen countertops for homes has now become a staple in commercial settings.Solid surface worktops are a practical addition to any office space because of the many advantages of solid surface.
This workspace pairs solid surface with natural wood to create a modern, minimalist workspace that is both beautiful and practical.
1. Durability
Solid surface worktops are durable and resistant to scratching, chipping, or becoming dented with daily wear and tear.Many corporate offices have wood desks with wood desktops which easily scratch if a computer monitor or briefcase is slid across the top. Acrylic solid surface worktops are scratch resistant to daily wear. In the long run, you will not have to replace your desks or worktops as often because they will not show use-related age spots. By investing in timeless, durable solid surface worktops for your corporate space, you will save the added expense of purchasing desks and worktops when they wear out after a few years — because they will last much longer than a few years.
2. Repairable
Accidents happen, and if your solid surface worktop is damaged, it can be easily repaired by an experienced fabricator. Cracks and chips can be filled quickly without a trace.This repairability can also be seen as sustainability because a cracked desktop doesn't need to be thrown out and replaced. It can merely be repaired saving you some cash and the environment some trash.
3. Customizable
Solid surface is made from natural minerals and acrylic resin and can be crafted into many unique designs through a process called thermoforming. The material can be used to make acrylic solid surface worktops that sit atop a base made from wood, metal, or another material.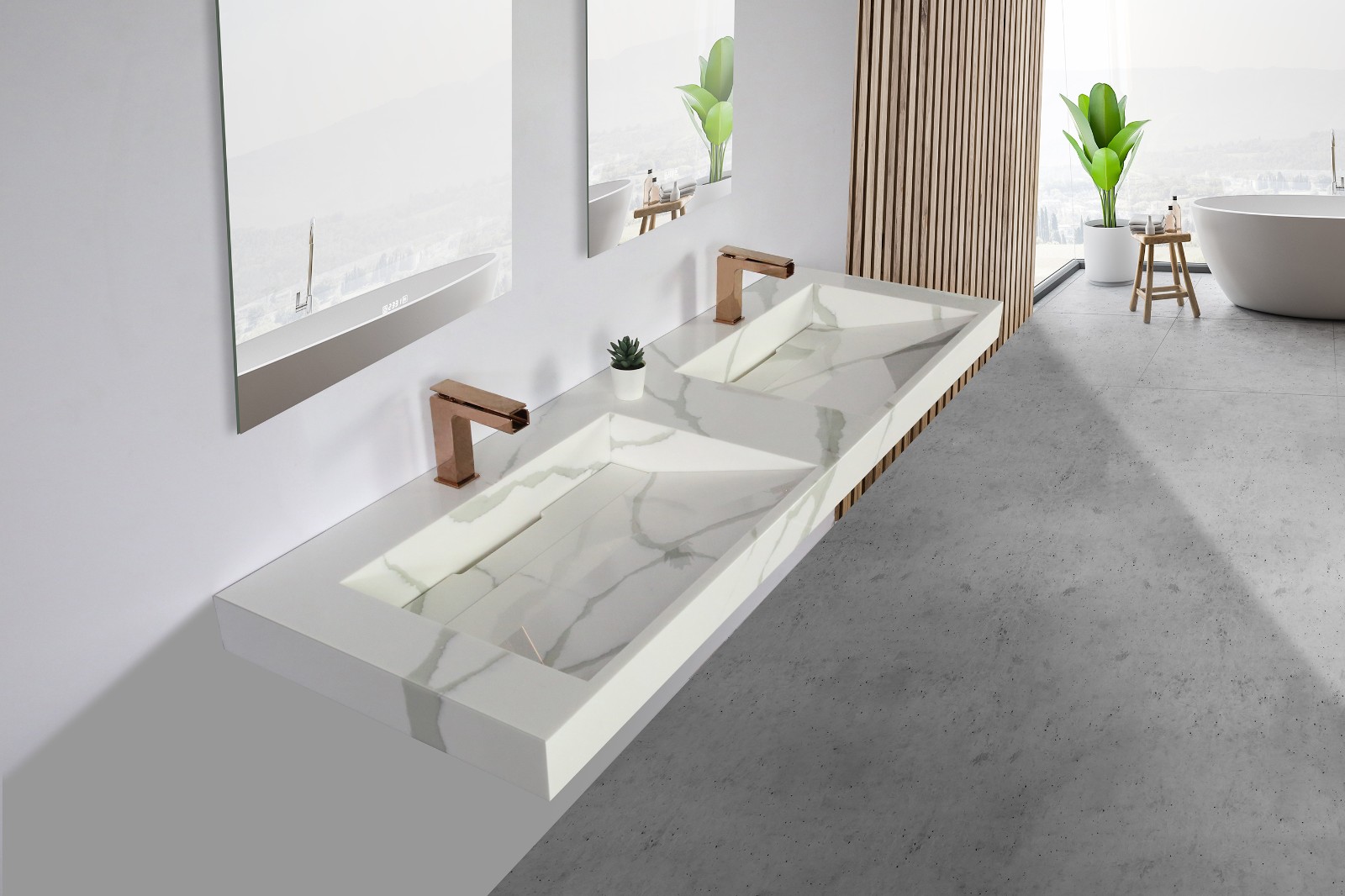 This open-concept workstation is crafted 100% from solid surface. Not only is the worktop solid surface, but the legs and supports are also made from the acrylic resin-based material.
Here is another example of solid surfaces' versatility. Not only is this entire worktop crafted from solid surface, but it is also embellished with other materials to create a striking and unique reception desk.
4. Colorful
In its early years, a common complaint toward solid surface was the limited color palette. Recently, scientists have engineered a variety of colors and patterns to personalize any space. Colors range from white and cream to vibrant orange and gray. You can also find patterns that imitate natural materials such as sand, marble, granite, and pumice.
Choose from solid colors or patterns meant to imitate natural stone such as marble or granite.
5. Manageable
Unlike some natural stone surfaces, solid surface requires very little maintenance. No sealing or polishing is required to keep your solid surface worktops looking as good as new.
6. Nonporous
Solid surface is a hard, nonporous material, which means that the surface will not soak up stains from coffee, juice, ink, or other substances. Coffee spills are inevitable in a workspace, and your acrylic solid surface worktops are easy to clean with warm water and mild soap. In spaces where food is prepared or tested, you don't need to worry about breeding harmful bacteria because solid surface worktops do not have pores like those found in softer substances such marble which means you do not need to worry about bacteria becoming hazardous to your health.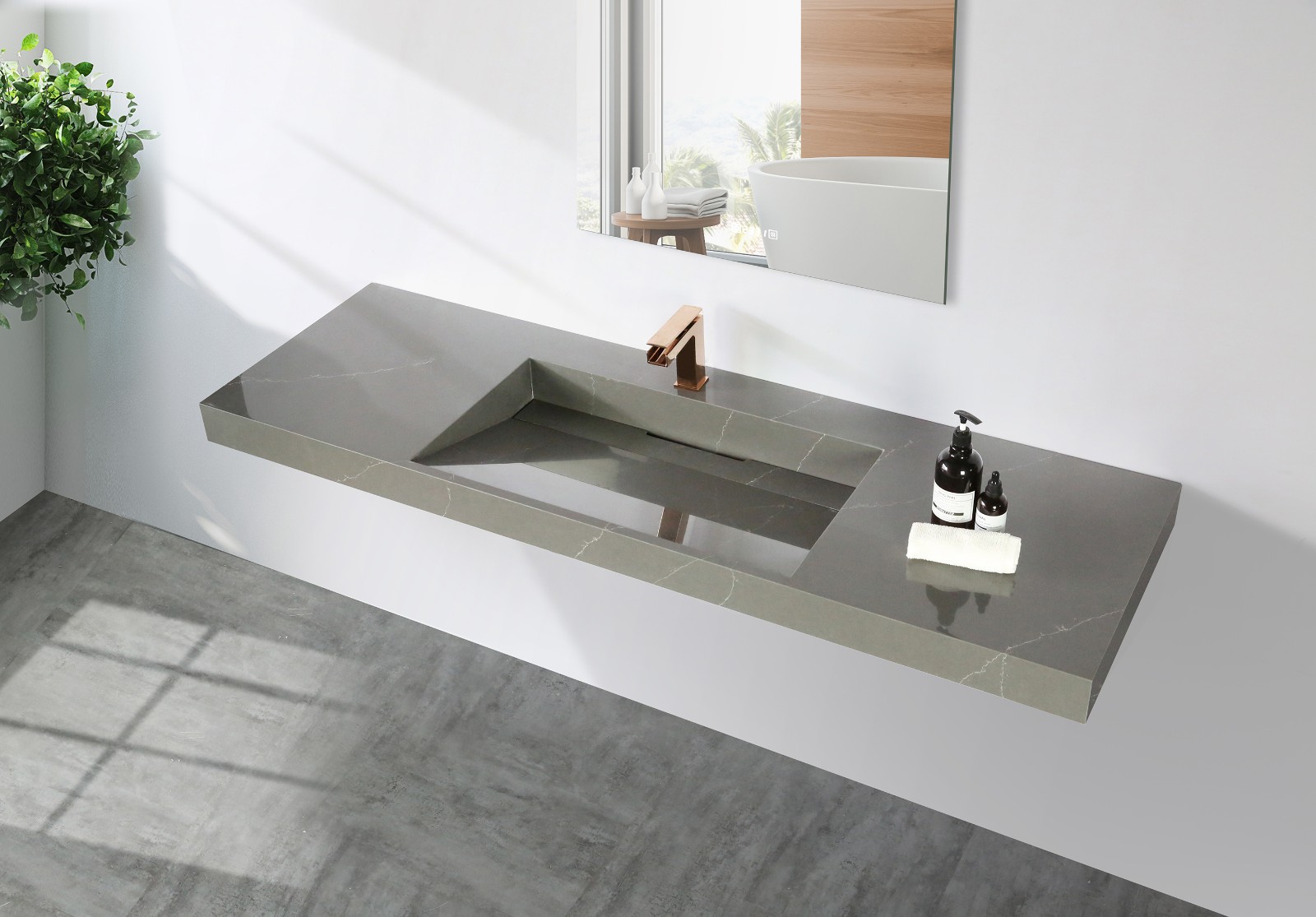 7. Affordable
Often seen as an affordable and practical option for worktops, solid surface can give you the luxurious aesthetic of natural stone with the price point of a cheaper material.While natural stone countertops can skyrocket to several hundred dollars per square foot, solid surface worktops usually cost less than $100 per square foot. The cost of solid surface depends on the type of surface you are purchasing. However, slabs will cost much less than a custom fabrication.
About Us
At KKR Solid Surfaces, we strive to enhance your life's journey. We understand that a desk or worktop is just a blank slate for your company to create ideas and build success, but we want to give you the inspirational space you need to fulfill your mission.That's why we are constantly working to improve our products. Begin building your dream workspace by viewing our color portfolio here.