As it is widely known, ceramic and porcelain basins have been widely accepted for a great number of years, and most people are used to selecting porcelain basins for their bathroom vanity. As a great alternative, acrylic solid surface wash basins have become more and more popular among hotel project designers and home designers as there are many advantages over ceramic basins.
Let's see what features solid surface wash basins have that ceramic basins do not
1. Material
Unlike ceramic which is made of clay, solid surface wash basins are made with an acrylic solid surface material (premium acrylic resin plus aluminum powder). This versatile material is widely used in kitchen counter tops and bathroom vanity tops and its flexibility allows designers to create ingenious designs with a modern style. For example, contemporary bathroom designs can require straight edge square wash basins with almost 90 degree corners. This is easily possible with solid surface wash basins; however, you may seldom find a very straight angle ceramic basin as they are difficult to produce.
In style, ceramic wash basins are relatively conservative and solid surface wash basins are tightly connected with modern, sleek design.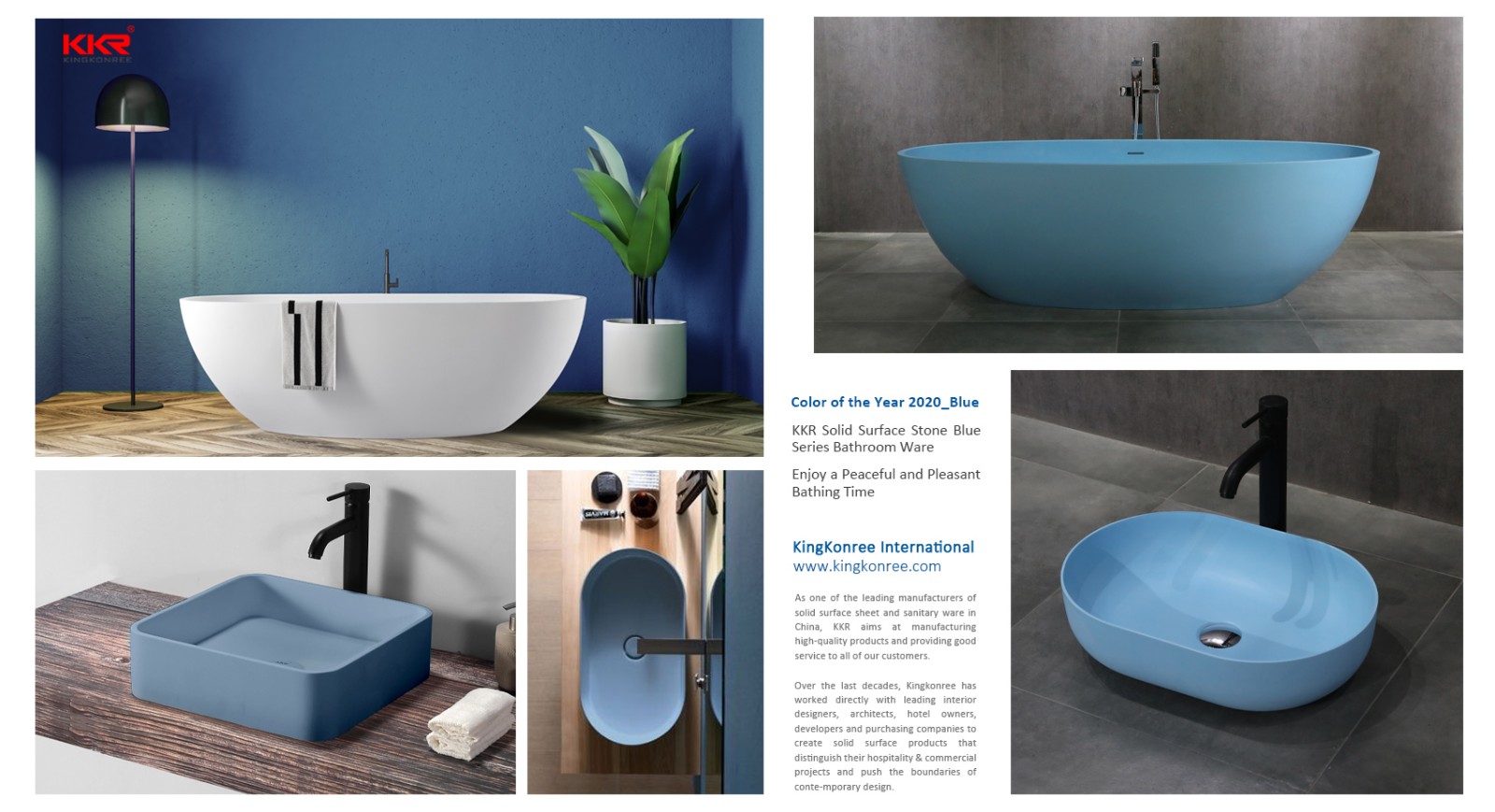 2. Surface hardness
Normally, the surface of ceramic basins is harder than a solid surface wash basins and is much more scratch resistant. However, solid surface wash basins Barcol hardness ranges from 50-62 depending on quality, the harder, the better. Compared with ceramic, solid surface is slightly softer and can be scratched occasionally, but fortunately these tiny scratches can be buffed off by sanding and polishing.
3. Solid surface material is good for making extra large size vanity basins
Public bathrooms usually require extra long integrated vanity basins ranging from 1.5m to 1.8m or whatever length is required. Solid surface wash basins can be made at any size, whereas with ceramic it will be very difficult and expensive to make a large size vanity basin.
4. Seamless jointing with counter tops without grout
Unlike ceramic sinks, solid surface wash basins can be seamlessly jointed with solid surface counter tops without the need of grout seams. Therefore they are easy to keep clean and mold cannot breed in the seams.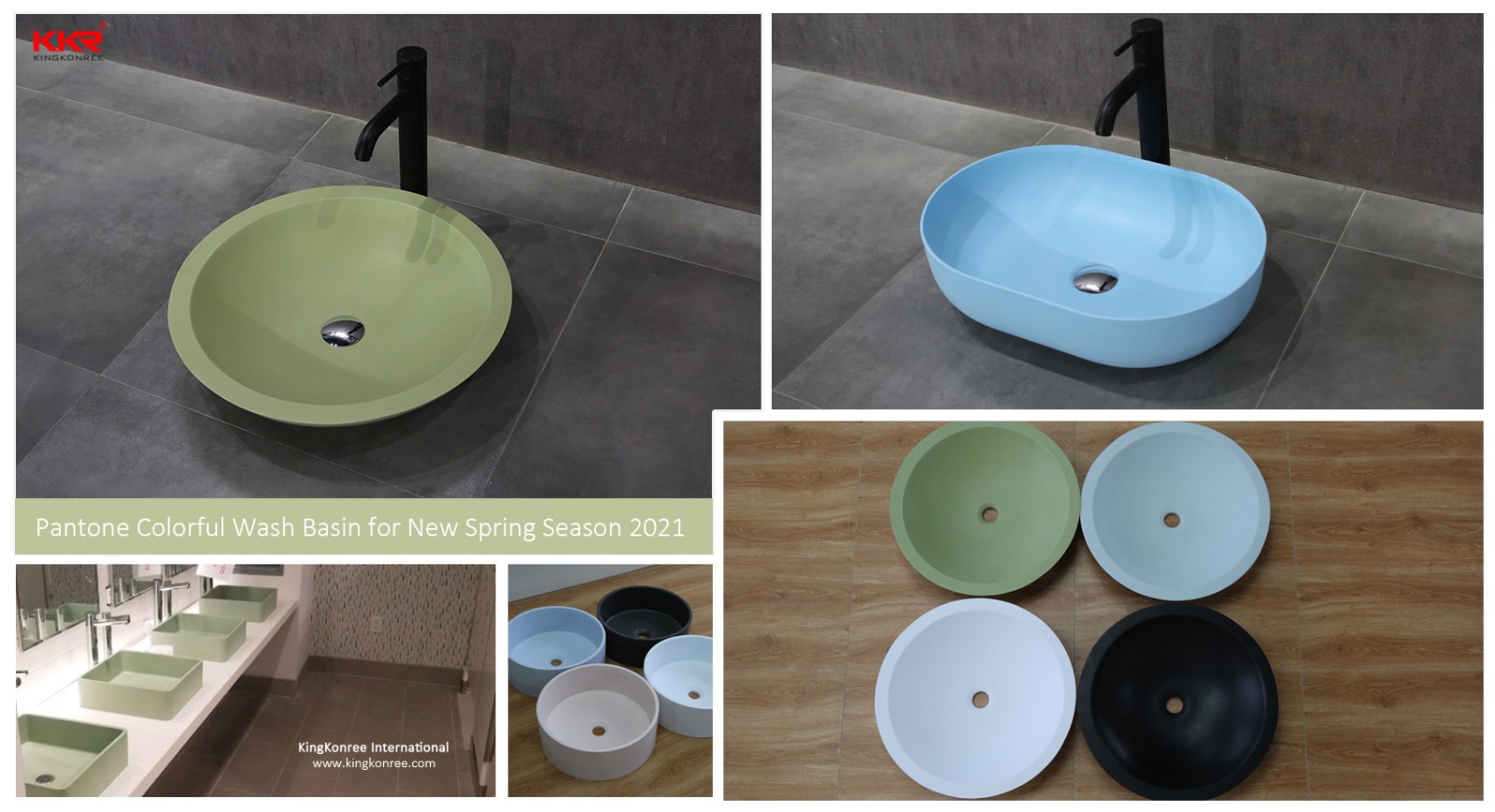 5. Ceramic basins are fragile and prone to crack during transportation
In general, ceramic basins are very fragile and must be wrapped very carefully when transported otherwise they can easily crack. However, premium solid surface wash basins are much stronger and more durable, so the risk for cracking during transportation and movement is low.
6. Life span
If taken good care of, both ceramic and solid surface wash basins can be used for decades. After many years of use, both acrylic solid surface and ceramic basins will become slightly darker in color compared with a new one. It is recommended to regularly wipe over the basin with normal household cleanser to clean thoroughly and you may also need to sand and polish an acrylic solid surface wash basin to refresh it completely from marks and scratches.