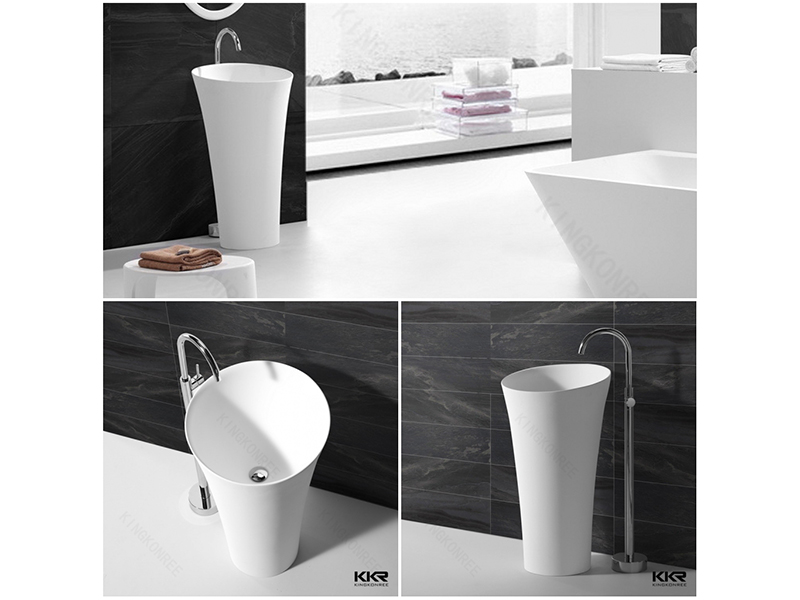 Freestanding solid surface wash basin KKR-1394 model is not only designed as a simple sink, but as a sculpture to convey emotions. The freestanding solid surface wash basin builds elegant and discreet atmosphere to fit the sink soft and sophisticated environments.

A washbasin is not just a container for water, but it is also a tool to convey emotions as well as to furnish a space. Antoniolupi, interprets the KKR-1394 freestanding washbasins evoking images with a charming elegance and moderation that match well with soft atmospheres and sophisticated places. The shape of KKR-1394 freestanding washbasins, reminding a flower stalk, has a narrow basis and a top that widens out farther on. This pedestal freestanding sink is made of white solid surface and is available both in the over the top or free standing versions.

Besides the freestandling solid surface wash basin like KKR-1394, we also have other type of solid surface washbasins for choice, such as solid surface wall mounted basins, solid surface countertop basins, solid surface wall hung basins, solid surface undermount sinks, solid surface cabinet basins , etc. You can find all of them with us .