Do you have a small bathroom or powder room with barely enough room for a toilet and wash basin? If so, consider replacing a solid surface wall hung basin with a wall-mounted sink! Wall-mounted sinks have a great, modern look and make a small bathroom, especially a guest bathroom, seem less cluttered and more spacious.
Let's see how to install a wall hang basin!
Prep the Wall
Once you've safely removed the bathroom vanity, if there is one, it's time to prep the wall for your sleek new sink.
Start by measuring the size of your new wash basin and determining the ideal mounting height (usually about 30 inches from the floor, but this may vary depending on your sink or preference). That should give you an estimate of the area you'll need to support.
Carefully cut a section of the drywall away and nail in blocking–either 2x6s or 2x8s–between the wall studs. If you have a tile wall or other wall covering, you'll have to be very cautious to only remove tile that won't show when your sink is in place.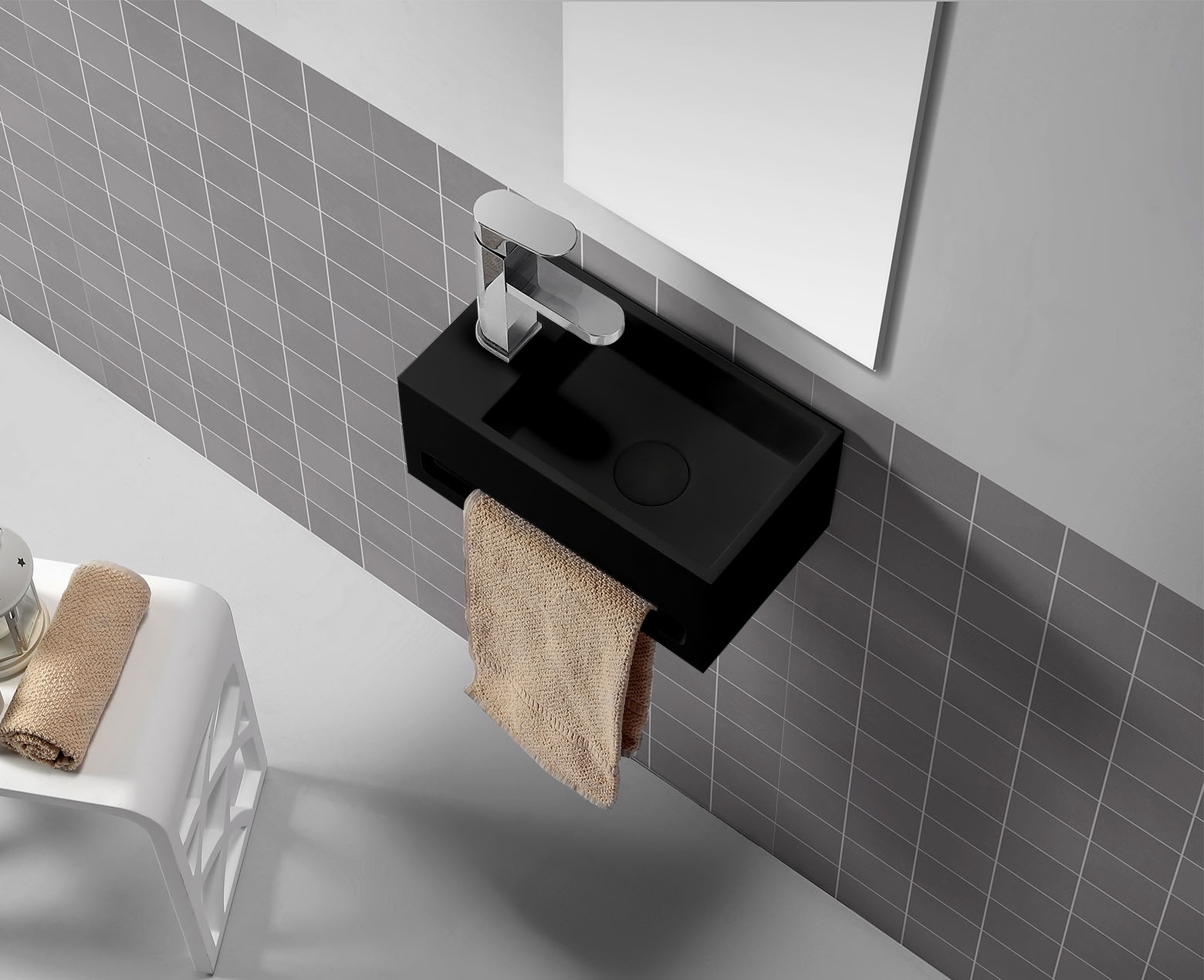 Install the Sink
1. Position the sink (or its mounting plate if it has one) on the wall and mark the wall through the holes in the plate or sink. Use a level to make sure the mounting bolts are level.
Drill pilot holes for lag screws or other fasteners supplied by the manufacturer; if the wall is tile, use a masonry bit to drill the tile and then a smaller twist bit to drill into the backing.
Then install the faucet and drain and pop-up assemblies on the sink.
2. Use lag screws or other fasteners recommended by the manufacturer to secure the sink or the sink's metal mounting plate to the blocking. After driving in the first fastener, check to make sure the sink or mounting plate is level, then drive in the other fasteners.
3. Connect the P-trap and drain arm to the drain stub-out, then connect the two water-supply tubes to the shutoff valves.
That's it!
Where can I find reliable wall hang wash basins?
Try a KKR Wall Basin in a solid surface finished for a modern, stone look. With a 10 year warranty, and large size range, KKR stone wall hung basins are the perfect choice for you bathroom renovation or brand new Mounted Sinks.
KKR-1105 series is the most popular small size wash basin design, widely used for home, hotels, public toilets...