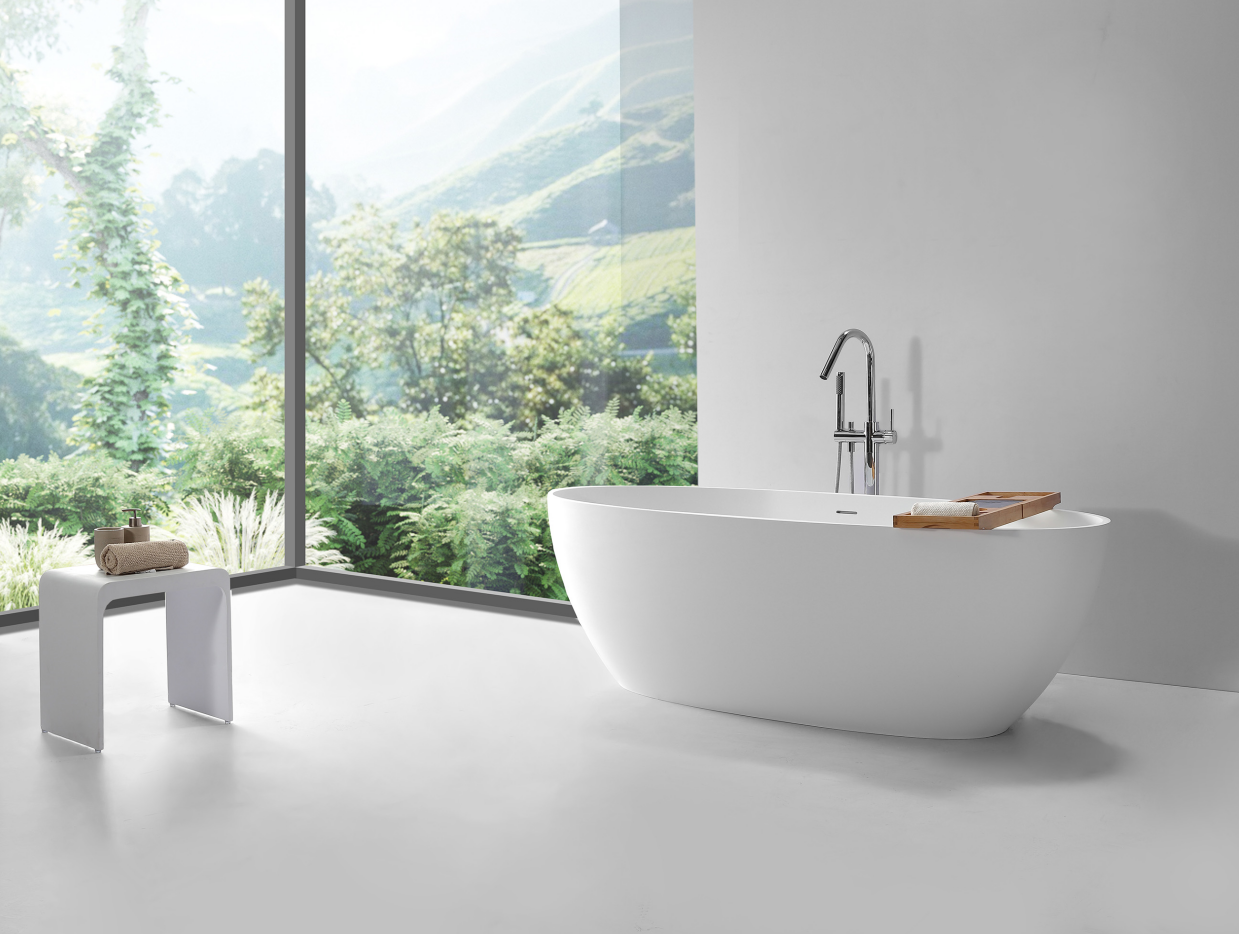 Introduction:
KKR Solid Surface Freestanding Bathtub is made from well Resin, ATH, Pigment and auxiliary agent.
It is really solid, smooth surface, hygienic,non-absorbing, chemical resistance, scratch resistance, stain resistant, anti-bacterial.
So it is easy to maintain, renew and repair. even there is some stain or scratch mark on the surface, could be removed by wet pad or sanded by wet sanding paper and polished, then the Solid Surface Freestanding Bathtub will look like new one.
Because of the excellent performance of Solid Surface Freestanding Bathtub, it has been wildly used and welcomed.
How to Clean your Solid Surface Bathtub
Should check the material first and then clean by manual.
Recommended to clean the acrylic solid surface freestanding bathtub once a week, cleaning with a sponge or cloth, do not use coarse cloth, scouring pad, but also need to avoid directly contacting with sunlight and high temperature cigarette.
It is better to use a mild detergent or water glass to do cleaning, don't use abrasive cleaning agent.
In addition, many chemicals will make the acrylic solid surface freestanding bathtub to lose luster, so don't use detergent with corrosive.
Routine Care
KKR solid surface freestanding bathtubs are very easy to clean. Here are the routine care steps:
--- Rinse them after each use in time to prevent mineral or soap accumulation. Most dirt will be washed off with clean water.
---Wipe the surface with a soft cloth in time after rinsing to keep them clean and dry.
---Occasionally use widely approved mild and neutral cleaning products to remove more stubborn stains, such as CIF, Mr. Chen, Soft Scrub, Comet Soft Cleanser and etc.
---Reseal the bathroom wares once or twice a year with car wax to keep the natural shine.
Note: Never use petroleum-based products when make cleaning, such as Paint thinners or other solvents, as they may damage the surface.