Kingkonree displaying samples of the Solid Surface Sheet Collection With aesthetics inspired by nature, these collections more than stimulate imaginative, artistic new design ideas.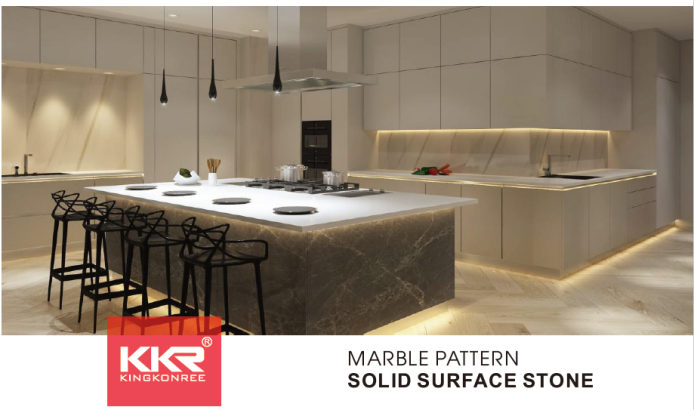 The 11 new colors of Kingkonree® solid surface are members of five new collections:
TERRAZZO, Marble Vein, NUWOOD and ONYX Collection, along with two new Solid colors. With these collections, Kingkonree® Design has introduced a vibrant and trendy palette for wholesaler, constructor, designers and architects to re-imagine spaces that express their own design tastes. In keeping with the innovative direction, the vision of these new aesthetics comes from a diverse range of areas–from the beauty of a forest to mid-century modern design to translucent stone to industrial decor. Let's take a deeper look into these striking collections.
The TERRAZZO Collection:
The Terrazzo collection speaks to a mid-century modern aesthetic. Five new colors of Kingkonree® combine timeless backgrounds with angular elements of chinaware, cream white, green, blue, and black. Terrazzo presents a different pure color background enhanced with low-contrasting particles, and dramatic with its black base and light, contrasting chips.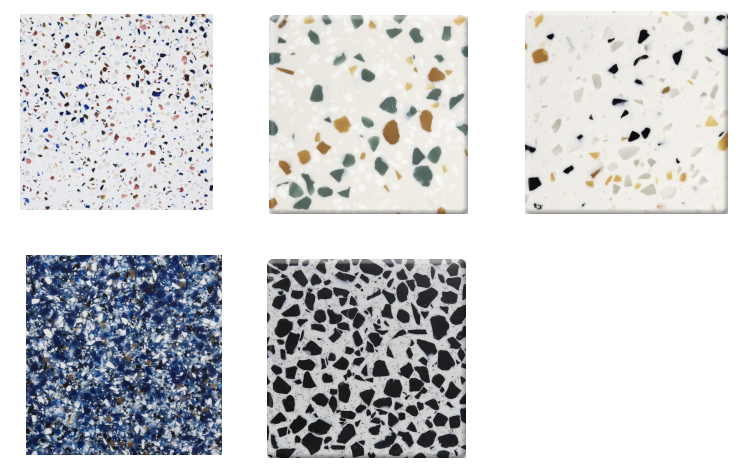 The Marble Vein Collection:
The Marble Vein collection expresses a distinctly classy, modern aesthetic with two new colors of Kingkonree®: KKR-M8858 and KKR-M8860. Parallel bands of colors in grays or dark blue streak through a white background. The strong presence of variegated lines make for stunning vertical or horizontal applications created by using either a pattern of uninterrupted lines or staggered in a striking staccato effect.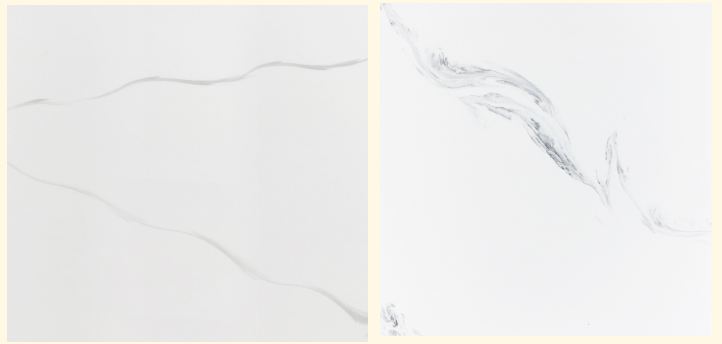 The NUWOOD Collection:
As evidenced by its name, the Nuwood collection is inspired by the classic look of wood. This collection boasts two new colors of Kingkonree® solid surface. The first is KKR-M8851, a naturally beautiful material with the dark richness of mahogany. The second is KKR-M8852, featuring the light, sun-washed look of beech wood. The Nuwood aesthetic establishes an entirely new way to create the traditional look of wood by bending, shaping or carving it into forms not often seen in wood, all because of the design flexibility of Kingkonree® Solid Surface.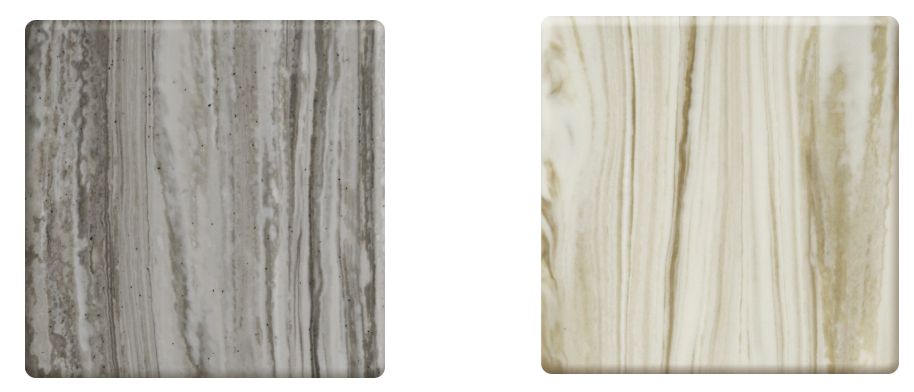 The ONYX Collection:
The two new bold colors of Kingkonree® in the Onyx Collection exude a natural aesthetic. Gold Onyx (KKR-A029 and Jade Onyx (KKR-A030) have swirling patterns which create depth and energy, along with a translucence that adds a whole new dimension. The Kingkonree Onyx is even more stunning when illuminated from either above or below. The soft glow further enhances your unique space, whether contemporary or classic in design.