Modified solid surafce sheet material componet:
1. UPR (unsaturated polyester resin) (20%) + PMMA (methacrylic acid ) (12%)
2. Aluminum hydroxide powder (65%)
3. Curing agent (methy ethyl ketone peroxide)
4. Accelerant
5. Pigment 3+4+5 = 3%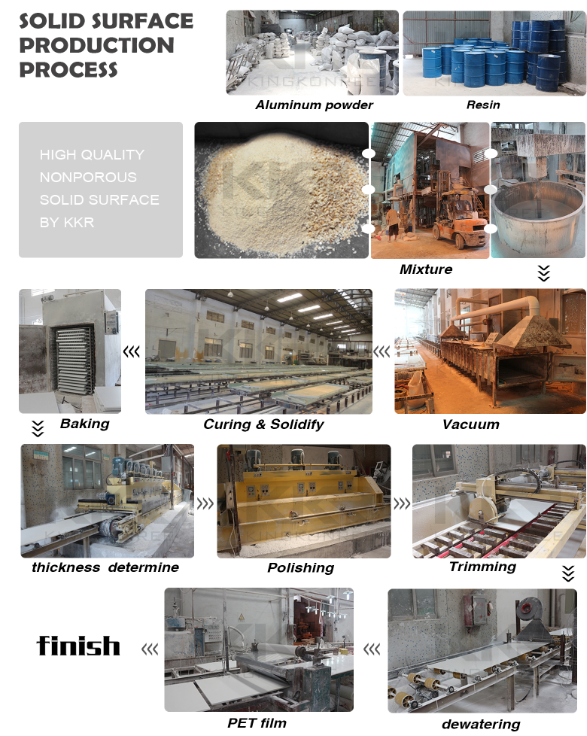 The strength of KKR solid surface sheet prodcuts:
①Top quality raw material, Aluminum Hydroxide supplier is Chinalco. the powder is very fine, without black dots , makes our products very smooth and silky, not dry, touches fine.
②Good flatness, produced by advanced machine, the thickness determine and polishing in one line. Thickness of the tolerance can be controlled within +0.5 mm instead of -0.5mm。
③Can do customized dimension.
④Good surface finish, without sanding mark.
⑤Color matching service.
⑥support small trial order.
⑦technical training can be supported.
⑧with CE and SGS certificate. pass Fire Resistance + High Temperature Resistance + Anti-fungal + Stain Resistance Test.
⑨We can provide related products, such as same color glue,machines and tools for fabrication.
⑩Many color option for marble pattern sheet and translucent sheet. The pattern looks natural. And we have many project experience with these colors.
⑪Max width 1220mm.
⑫For thick sheets,especially for sheet with large speckles, we can make sure the speckles are distributed evenly. For 30 mm thickness,we do much better than other suppliers.
⑬Raw materials are the main factors affecting prices, cheap raw materials can greatly reduce the cost . But cheap material will bring a lots of problems, for example get dirty easily, get yellowing fast, get yellowing unevenly, crack easily, which is opposit of our products
KKR Basin and Bathtub strength: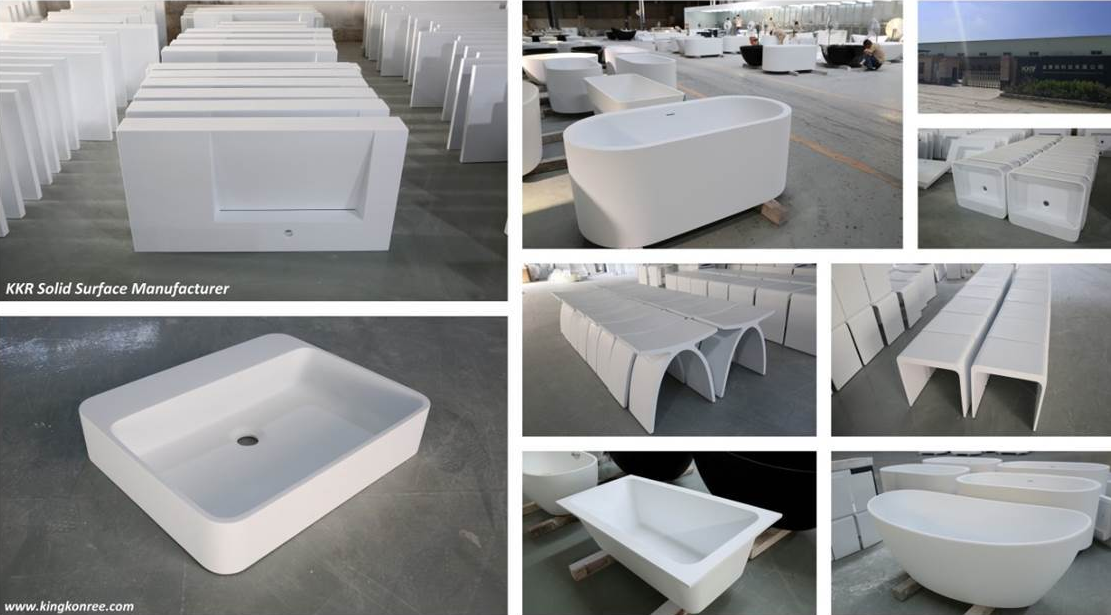 High quality raw material
Stone powder: We use 1000 grit aluminum hydroxide powder, supplier Chinalco.(Without any calcium powder.) Good purity, no black dots inside and on surface. High density, non porous, environmental friendly and anti-bacterial. Smooth surface and touches fine, low water absorption.
ISO Resin: Good stability and flatness, no easy to be out of shape, no yellowing fast.
Pigment: We use LR brand made in UK. No yellowing fast, no big color difference between different batch, stable performance.
Can be repairable if slight scratch.
Can be renewable by polishing after long time use.
Under-mount basin can be seamless jointed with countertop.
Strong ability for customized design. We have our own mold workshop and 3D designer team.
Rich experience for projects of hotel, apartment, and shopping mall in domestic and aboard.
Except for white color, we can do dark color, colorful and color with chips sanitary ware. We start in this field early, so we have a mature technique for it.
Flexible MOQ, sample order is acceptable.
We have a large advantage for long rectangle basin, such as basin in length 1.8m. The flatness tolerance can be controlled within 0.3%.
KKR Fabrication countertop strength:
1. High-quality raw materials: pure aluminum powder and high-quality resin. Exquisite and smooth surface with strong anti-yellowing ability.
2. Seamless joint technology without any joint line or glue line
3. Flatness tolerance within 3‰.
4. Manufacture the slabs and bathroom wares, and make the fabrication all by ourselves to well control the quality.
5. For small quantity countertop with basin, we can make both slabs and basins ourself to control the whole process, ensure the quality, and make sure there is no color difference. For bulk order, we can make them by mold.
6. Short production time for sample order with flexible MOQ.
7. Full set of large-scale machinery and equipment to ensure the accuracy of the product. For example, we can use CNC to do the LOGO and groove. Faucet holes and others could be smoothly cut. Infrared and waterjet are also used to ensure accurate product size.
8. Technician with more than 10 years experience to thoroughly polish in place, and make sure a lasting glossy surface to be resistant to dirt.
9. We can make the countertop by using the solid stone or combining the solid stone with wood, stainless steel, and other products.
10. Professional packaging: strong and durable packaging materials which are environmentally friendly. Also, the package could be custom-made.
11. Rich hotel project engineering experience.
12. One-stop purchasing, such as chairs for tables and brackets for the countertop, and etc.
13. Complete certification and test report: CE certification, stain resistance report, high-temperature resistance report, anti-fungal report, fire test report, and etc.
14. Special inner design team to prepare the drawings and designs in time.
15. Pass through the environmental assessment to ensure a stable supply of goods without any sudden interruption of delivery.
16. Rich experience in quartz stone countertop with carving waterjet. Independent department for grinding and polishing.
17. When molds are restricted, we could make the products by fabrication as an alternative way.