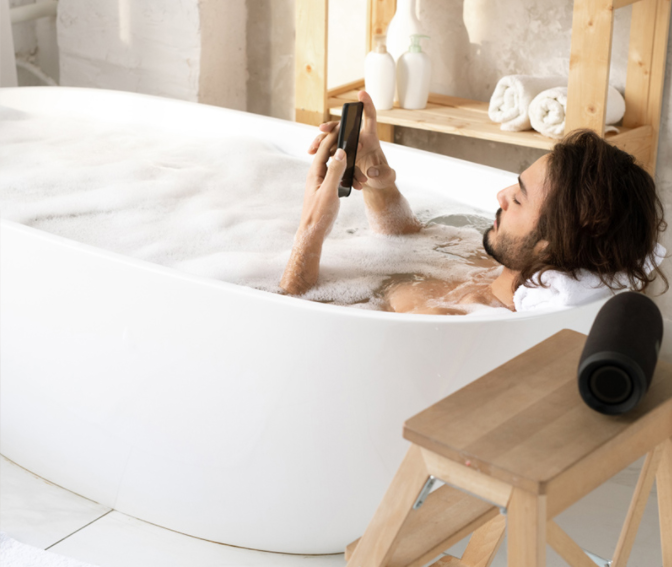 What contributes to a top-rated bathtub brand?
KKR has focused on solid surface products for over 20 years, deeply research in bathtub, wash basin, shower tray as well as shower stool with best quality to your bathroom. What make us go so long, it's our "Attitude ", who responsible for every piece and every producing step of our products.
And even with the more and more strict control rule on environmental protection of Chinese government, we keep going further to the oversea market with our higher and higher pursuit in our bathtubs and service, bringing our best quality solid surface bathtubs to your side.
Why has solid surface bathtub become a trend in people's life?
The solid surface material is named for its bright color like natural marble. At the same time, solid surface bathtub and wash basin are becoming a new favorite in the sanitary wares industry. Bathtub, as a luxury product, it represent the trend of high quality.
Besides, the weight of solid surface bathtub is only 65% of the ordinary marble stone bathtub, which lead to it's strong position in middle to high-end apartments and hotels.
FAQs – Frequently Asked Questions
Q: Can you make other colors besides white Bathtub?
Yes, our current hot selling colors are white, black, gray, concrete gray, and grain colors. There are also newly introduced blue, green, and pink colors, which selected from our color chart.
Q: Can you make bathtub with marble veining?
Yes, our newly introduced textured marble ramp bathtubs, with simple and clean design, which are very popular in the market. And it is rectangle in shape, unique looking well decorated your bathroom.
Q: How often should we Clean the Bathtub?
Normally clean and disinfect the bathtub every two weeks. You should be more cautious about it if you use it daily, which is very important for your health.
Q: We want to buy furniture of many kinds, can you help?
Sure, we offer one-stop purchasing for our clients. Not only bathroom wares, but also countertop and sink for kitchen, quartz stone for house floor, toilet for WC, table and chair for dinning room. Even reception desk, display stand and wall panel for supermarket or hospital is also in our product range.