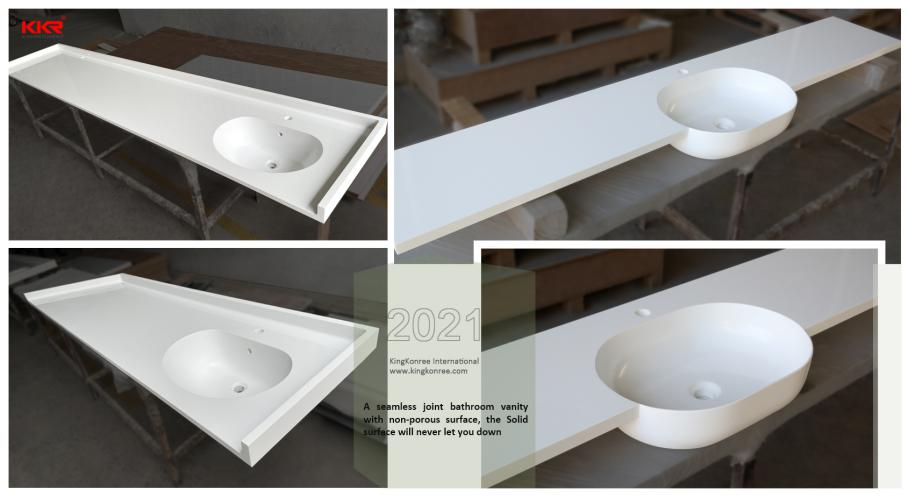 In the International market, the acrylic stone sheet is known for being food-grade certified, i.e it is hygienically clean for making kitchen countertop, bar table, dining desk surfaces. So the solid surface countertop is preferred where water & food will get in contact.
1)What is solid surface?
Solid surface stone is a polymer composite material; the material itself has no radiation, no formaldehyde gas volatilization, and can effectively inhibit the growth and reproduction of bacteria, molds and viruses.
The material has excellent performance and can be seamlessly spliced into one piece, so that dirt and bacteria have nowhere to hide.
2)The feature of solid surface:
1.Smooth surface, touch warm, good flatness
2.High density, no porous, low water absorption
3.Renewable by polishing
4.Repairable if slight scratches
3)The advantages of solid surface countertop:
1.Strong corrosion resistance
The product has passed the American furniture corrosion resistance professional test, especially suitable for the kitchen countertop, dinner table, bar table, hotel reception desk frequent clean and use.
2.Excellent quality and durable
Tailor-made household and medical furniture have passed professional durability tests and can face frequent use tests.
3.Strong repairability, high-cost performance
Artificial stone acrylic furniture countertops can achieve a brand new effect after being polished and repaired because of the easy repair.
4.Variety of colors, delicate touch
The most suitable color system for the bathroom. Artificial stone acrylic countertops have beautiful lines, soft and elegant colors, and warm and delicate touch.
5.Easy fabricated installation
Factory processing and molding, easy installation for everyone, high efficiency, no pollution, and no noise during installation, ready to use.